Fresh and Golden.  Sometimes we wonder why Michel Gros makes any white wine at all. The Gros family has lived for generations in Vosne-Romanée, a town that produces some of the finest red wines in the world. His red Burgundies garner high prices and have won him acclaim for decades.
But the reason for a white becomes clear as soon as we taste it. Michel opened a 2012 Hautes-Côtes de Nuits blanc last week during a tasting, just to check in on its progress. It was drinking so beautifully that it inspired us to choose it for today's post.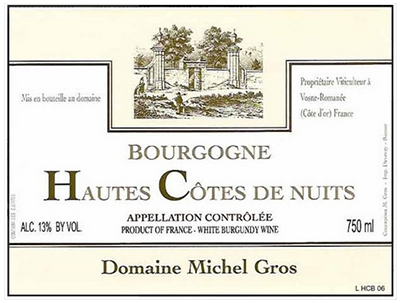 Lemon and toast.  Gros's only white wine comes from the Hautes-Côtes de Nuits, a region up on the ridge just west of the Côte d'Or. Gros farms a considerable amount real estate up here, much of it planted by his father in the 1970s. These wines may have less complexity than his famous village wines, but they also come with a friendlier price.
The Hautes-Côtes de Nuits blanc 2012 shows a lemony, nutty nose with bright clean notes and lots of expression. In the mouth it's rich and full, with a soft attack followed by a burst of freshness — look for lemon curd and toast. It's richer than many white Burgundies, and shows a nicely integrated touch of wood.
We love the Gros HCDN blanc with grilled chicken and other such summertime fare — it's refreshing and bright but with plenty of gras to stand up to the meal. Chablis might be better suited for raw shellfish or sushi, but for something coming off the grill this is an inspired match.
_
________________________

GROS Hautes-Côtes de Nuits blanc 2012
Ansonia Retail: $36
offer price: $32/bot
_
AVAILABLE IN 6-  AND 12- BOTTLE LOTS
_
_
_
_____________________________