Yin and Yang. Spend even a few days tasting Burgundy, and the power of terroir is hard to miss. During a brief visit last week, we sampled Volnay, Savigny, Givry, Mercurey, and Pommard — five wines made from the same grape and the same region. But the characters of these wines could not be more disparate.
Volnay and Pommard are a particularly good study in terroir. These neighboring towns feature opposing takes on Pinot Noir: Volnay is known for wines of elegance, Pommard for wines of power. Some Burgundy enthusiasts prefer one over the other, but for those who'd rather not choose, we suggest this Pommard dressed in Volnay robes.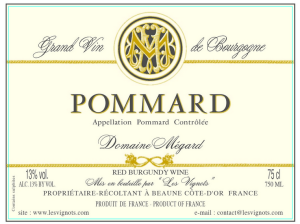 Continuum.  And as you approach the border, the differences between the towns blur a bit, and it's from there that today's wine hails. Grown from three plots in the appellation of Pommard, it's the vines from near Volnay border that dominate this wine. The nose is very pretty, showing raspberry, cassis, and a touch of menthol. The mouth shows dry blackberries, with elegant, delicate mouthfeel.
We've been pleasantly surprised at how well this wine drinks today. Though it will certainly benefit from another 3-5 years of cellaring, an hour or more in a carafe dramatically softens the tannins and opens the palate. Paired with a simply prepared steak, this is a delightful glass of classic Burgundy. Try a bottle every six months for the next few years — it might even age better than you do.
_
________________________

MEGARD Pommard 2011
Ansonia Retail: $52
case, half-case: $44/bot
_
AVAILABLE IN 6-  AND 12- BOTTLE LOTS
_
_
_
_____________________________