Pilgrimage.  For most Burgundy enthusiasts, Vosne-Romanée is Mecca. The wines of Vosne have been celebrated since at least the 13th century, and it is generally considered "the greatest Pinot Noir village on earth."* Or, as a monk wrote centuries ago, "there are no ordinary wines in Vosne."
We found ourselves on this hallowed ground yesterday afternoon, for our annual tasting with Michel Gros. After working our way through the excellent 2013s still en cuve (look for them in the November 2015 Futures Issue), Michel invited us down into his cellar, and opened a 2012 Vosne Romanée.
Maybe it was the moment — the centuries-old cellar, the historic town, the rows of oak barrels surrounding us — but this wine stopped us in our tracks. It was concentration and elegance, dark fruit and spice, prestige and accessibility — a perfect example of what makes the town so special.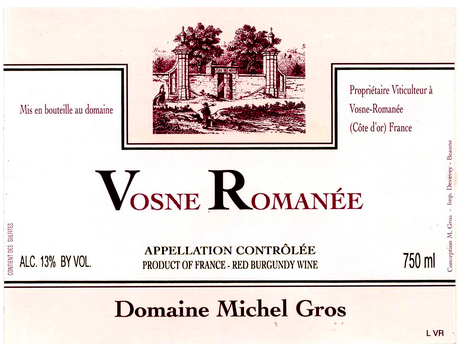 Seductive. The domaine is all sold out of the Vosne-Romanée 2012, and we picked our only allocation last fall. We had planned to hold onto it for another few months, but yesterday's bottle compelled us to release it sooner.
In the nose, the Vosne Romanée 2012 showed dark chocolate spice, cassis, and licorice. It was immediately expressive from the moment the cork was pulled, showing more like a wine of twice its age. The mouth is long, dense, and elegant, showing silky tannins and notes of burnt cherries and toast.
Drinkable as it may have been yesterday, this wine no doubt has a long and exciting life ahead of it. Allen Meadows (Burghound), who found the wine "wonderfully spicy," and "highly seductive," counsels waiting another 4 years to begin drinking. We dare you to see if you can wait that long.
_
________________________

GROS Vosne-Romanée 2012
Ansonia Retail: $75
offer price: $68/bot
_
AVAILABLE IN 6-  AND 12- BOTTLE LOTS
_
_
_
*Clive Coates MW
_____________________________