Easy Rosé. After 13 years running Burgundy's prestigious Domaine de l'Arlot, Olivier Leriche moved south to the rugged and remote region of Ardèche. More than just a change in landscape, the shift presented Olivier with an entirely new range of grape varietals: carignan, grenache, syrah, cabernet, and others.
Olivier's first few wines — red blends with cool fruit and exceptional balance — have been met with acclaim around the wine world. So it's no surprise that his latest project is just as successful. The Accoles "Rosé des Acolytes" is unusually complex and very refreshing.
Balanced and fresh.  The Accoles Rosé 2014 is a blend of Grenache and Cabernet, combining the softness of the former with the freshness and structure of the latter. In the nose it shows earthy wild strawberries and a hint of lavender. The mouth is brisk and dry, with cool red fruits and lime rind; at only 12% alcohol, it won't tire your palate.
This is lively enough to stand up to a range of foods — a whole roasted fish comes to mind as a nice pairing. But there's plenty of tension and roundness on the palate, and we usually enjoy several glasses before the food is served. It might be the best $15 you spend this week.
_
________________________

ACCOLES Rosé 2014
Ansonia Retail: $18
case, half-case price: $14.95/bot
_
AVAILABLE BY THE CASE AND HALF-CASE
_
_
_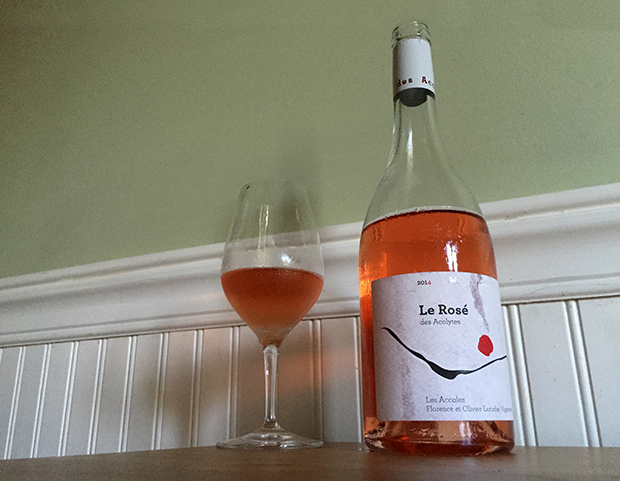 _____________________________
Enjoy this article? Sign up to receive them in your inbox.
_
_