Seasonal. There's hardly a food with a greater distance between in-season and off-season quality than the tomato. We've enjoyed a tomato-filled summer — in salads, dressed simply with olive oil, or cooked down into sauce for fresh pasta or homemade pizza. When they're sweet and crisp and soft, there's nothing better.
Tomatoes provide a wine pairing puzzle that we usually solve with a selection from our lone Italian wine source: the Fattoria Poggerino. Nestled in the rolling hills of Tuscany, Poggerino produces pure Sangiovese wines, that are balanced and delicious. We enjoy them year round, but the waning summer and final crops of tomatoes are a good excuse to pull a cork now.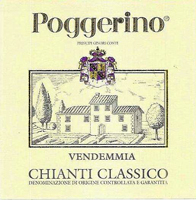 Smoke and Cherries. The name "Chianti" is indelibly linked to the image of a straw-covered "fiasco" bottle with candle wax dripping down its sides; and a reputation for low quality was once well deserved.  But the quality of wine made in Chianti has improved in the last three decades as much as any wine in the world, and though it's a tiny fraction of the wine we import, we love having a Chianti in our lineup.
The 2011 Poggerino Chianti Classico has a cool, solid body that's sturdy but not heavy. We found chocolate, beef, and smoke in the nose, with roasted cherries in the mouth. The wine is pure Sangiovese, a dense, tannic grape that can produce a powerful wine with beautiful floral aromas in the hands of a skilled winemaker with the courage to let ripen fully.
Grab those last tomatoes in the farmers market, open a bottle of Chianti Classico; the pairing is a lovely farewell to summer.
_
________________________

POGGERINO Chianti Classico 2011
Ansonia Retail: $24
case, half-case price: $19.95/bot
_
AVAILABLE IN 6-  AND 12- BOTTLE LOTS
_
_
_
_____________________________
Enjoy this article? Sign up to receive them in your inbox.
_
_
_____________________________
_
_