Adversity.  It is often said that good wines are made in the vineyards. That may be true, but they can also be saved in the winery. When we visited the Domaine Collet in Chablis in the midst of the 2013 harvest, it seemed a scene of tragedy. Rot-laden grapes and malfunctioning machinery had kept the young winemaker Romain Collet up all night with worry, and we made a mental note to exercise caution before buying the finished product.
Imagine our surprise, then, when this past June Romain presented us with a lineup of elegant, beautiful wines from 2013 — so much so that many of our normal allocations had been severely reduced. Bottle after bottle showed excellent balance and precision, a testament to both technology and considerable winemaking skill.
Clearly Romain eliminated all the bad grapes, sacrificing quantity but preserving quality. We commend Romain on his success in a very difficult year — we only wish there were more of his excellent results.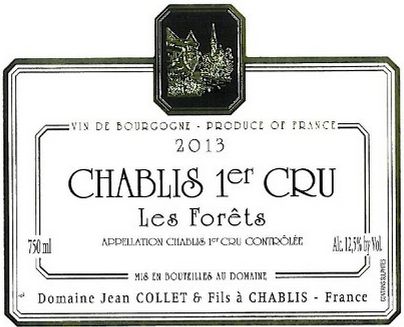 Value.  Chablis has always been a favorite source for value in White Burgundy. The Chablis brand, sullied long ago by California jug-wine, has yet to recover; but that's all the better for buyers. In our opinion, Collet's 2013 Chablis 1er cru "Forets" approaches a very fine Puligny-Montrachet in style and quality — and it can be had for less than $35.
The 2013 "Forets" is just a bit atypical for Chablis — with slightly lower acidity and a careful note of oak, this could easily be mistaken for something from the Côte de Beaune. But beneath a beautiful golden mouthfeel lies an elegant strain of minerality whose origin could only be the rocky hillsides of Chablis.
The balance in this wine is striking. Every note — lemon, mineral, pear, straw, oak — hits in perfect harmony. Well suited for whole roasted fish or a classic risotto, this wine will elevate a weekday meal, or lend grace to a weekend feast. Save a bit for Thanksgiving, but don't expect it to survive much of a crowd.
________________________

COLLET Chablis 1er cru "Forets" 2013
Ansonia Retail: $38
case, half-case: $32/bot


_
AVAILABLE IN 6- AND 12- BOTTLE LOTS
_
_
_
_____________________________
Sign up to receive these posts in your inbox:

__
_____________________________
_

-_
_____________________________
_

–
_