Geology. Puligny-Montrachet and Meursault are neighboring small towns in Burgundy. From end to end they cover just under five miles, and their combined populations number less than 2000 souls. Both towns have made wine for a thousand years, and today are world famous as sources of the finest white Burgundy.
Yet beneath the vineyard surface their differences are stark. In Puligny-Montrachet, the water table is so high that most domaines have no underground cellars, and flooding is a frequent concern. Just a stone's throw away in Meursault, the water table is unusually low, and the vines must stretch deep into the earth to find their nutrients.
These invisible differences contribute enormously to the character of each village's wines. We love the delicate precision of Puligny-Montrachet, but today's wine is from Meursault, and has the persistence and firm structure hard won by roots struggling below.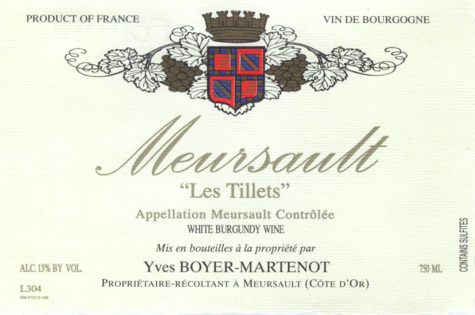 A New Star.  Vincent Boyer, the thirtysomething winemaker at the Domaine Boyer-Martenot, has had the reins of his family's domaine for less than a decade, but the secret is getting out. We were blown away by Boyer's 2013s, and we weren't alone; the seldom effusive Allen Meadows (Burghound) put it flatly: "Vincent Boyer produced simply terrific wines in 2013."
Today we're releasing the first of four 2013 Meursaults from Boyer. "Tillets" is from the slope above the village, where the wines show particularly brisk minerality and energy. Named for a type of medicinal lime tree found here centuries ago, Tillets shows white flowers, pear, hazelnut, and a beautiful chalky core. Vincent counsels serving this with fish like salmon or sea bass; we would agree, adding (as we often do) lobster in butter to the list of pairing ideas.
________________________

BOYER-MARTENOT Meursault "Tillets" 2013
Ansonia Retail: $56
case, half-case: $48/bot


_
AVAILABLE IN 6- AND 12- BOTTLE LOTS
_
_
_
_____________________________
Sign up to receive these posts in your inbox:

__
_____________________________
_

–
_