It's always been hard for us to get too excited about New Year's celebrations — but we'll take any excuse to gather family and friends for a fancy dinner. So we've put together a mixed case of four wines for a complete New Year's Feast. Whether you're celebrating the end of this year or the beginning of the next, this case will help the transition.
We've included four wines in the case, designed for a complete dinner party: Champagne to welcome your guests, white Burgundy for an appetizer, rich Gigondas for a fine cut of meat, and a pair of Sauternes for dessert. Hailing from France's four great regions, this is a collection of classic, Old World excellence.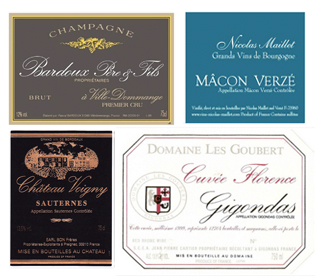 Bardoux Champagne Brut NV. This delicious blend from our first grower Champagne producer is proof of the region's unique and exceptional terroir. On a whim we opened a bottle next to a Veuve Cliquot on Christmas, and the Bardoux outclassed it on every level.
Maillet Macon-Verzé 2013. A classic white Burgundy — pure, unoaked chardonnay from the Maconnais region. This is mouthfilling and rich but shows excellent freshness and beautiful balance.
Goubert Gigondas "Cuvée Florence" 2010. This grenache/syrah blend from the Domaine les Goubert is our favorite wine from the southern Rhône. The rich, dense, concentrated red is perfect for wintery stews and other meat; the just-arrived 2010 vintage is among the best Cartiers have made.
Voigny Sauternes 2011. This classic, botrytis affected dessert wine from Bordeaux is a perfect way to conclude a meal. Serve it with blue cheese or foie gras, or in place of dessert itself — look for apricot, honeysuckle, and peach notes, and an unusually good balance.
_
MIXED CASE:
A NEW YEAR'S FEAST
4x   Bardoux Champagne Brut:   $46
3x   Maillet Macon-Verzé 13:   $28
3x   Goubert Gigondas 2010:   $46
2x   Voigny Sauternes 2011:   $32
_______________________
Ansonia Retail: $470
mixed case price: $395/case

(free East Coast shipping)   |   save $75
_ 
_
–
– _
_____________________________
Sign up to receive these posts in your inbox:

__
_____________________________
_

_____________________________
–
_