Each region in France has its own distinct identity. To drive across the country is to pass through a remarkable diversity of cuisines, traditions, accents, history, and, of course, wines. Each winegrowing region offers a different set of grapes and flavors, and we think there's no better expression of a particular corner of France than its wines.
So we've collected six wines to help with a virtual journey around the country: two whites and four reds from Burgundy, Alsace, Rhône, Bordeaux, Languedoc and the Loire. There's nothing quite like crossing France in a car or a train, but this mixed case offers an oenological tour of the country without leaving your dining room table.
At around $20 per bottle, these wines make great stocking stuffers and last minute gifts. And they're much more affordable than airfare.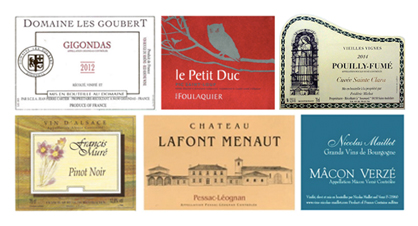 Maillet Macon-Verzé 13: a pure, golden, unoaked chardonnay from the heart of Burgundy's southern Maconnais region. Look for notes of hazelnut and orange peel.
Michot Pouilly-Fumé 14: a classic Loire Valley white, made of pure Sauvignon Blanc from old vines. Look for notes of grapefruit and gunflint.
Muré Pinot Noir 2014: a vibrant, very lightly oaked Pinot Noir from Alsace, showing more floral and fruit forward notes than red Burgundy. Look for notes of violets and ripe cherries
Lafont Menaut Pessac-Leognan 13: a dense blend of Cabernet Sauvignon, Merlot, and Cabernet Franc from the south of Bordeaux. Look for notes of cedar and plums.
Foulaquier Petit Duc 2012: a pure Grenache from the Languedoc, grown organically and biodynamically. Look for notes of earth and cherry pie
Goubert Gigondas 2012: a classic, concentrated blend of mostly Grenache and Syrah from the Southern Rhône. Look for notes of blackberry jam and provencal spices.
_
MIXED CASE:
TOUR DE FRANCE
2x   Maillet Macon-Verzé 13:   $28
2x   Michot Pouilly-Fumé 14:   $18
2x   Muré Pinot Noir 14:   $24
2x   Lafont-Menaut Pessac-Leognan 13:   $24
2x  Foulaquier Petit Duc 12:   $28
2x  Goubert Gigondas 12:   $30
_______________________
Ansonia Retail: $302
mixed case price: $245/case

(free East Coast shipping)   |   save $57
_ 
_
–
– _
_____________________________
Sign up to receive these posts in your inbox:

__
_____________________________
_

_____________________________
–
_