Iconic. As fashions change, dessert wines have become a dwindling part of collectors' inventories. But no serious cellar is complete without them. We think everyone — even casual wine enthusiasts — should have at least one dessert wine in their arsenal; and if it's going to be just one, it should be Sauternes.
Sauternes is a famous Bordeaux appellation known for its botrytis-affected dessert wines, most famously Chateau d'Yquem. Winemakers there delay harvesting until their grapes are covered by a particular mold, encouraged by fog and moisture from the nearby river. Then they painstakingly harvest the shriveled grapes, extracting and fermenting their sweet, nectar-like liquid.
Most people don't drink Yquem too often – even half bottles start at over $100 – but it's far from the only game in town. A few years ago we discovered the tiny Chateau Voigny, a family-owned winery on the banks of the Garonne with just one wine: a delicious, and affordable Sauternes.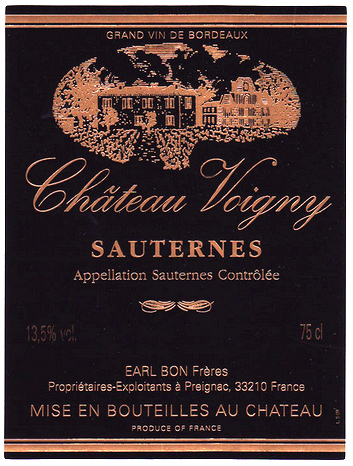 Mono-vinous. Considering the tiny yields achieved from these shriveled grapes, the low price of this wine is remarkable. Voigny's nose and mouth are full of the classic honeysuckle, apricots and peaches, but it's the acidity that keeps this wine lively. Many sweet wines lack acidity and fall flat – Voigny is bursting with freshness to balance out its sweetness.
There may be no more perfect food-wine pairing than Sauternes with seared foie gras. If your stomach (or conscience) is too sensitive, serve blue cheese as a salty foil. Or serve a small glass in place of dessert at the end of the meal. Set your dining room with a few candles and some cut glass, and your holiday table will sparkle with this legendary sweet, golden nectar.
________________________

VOIGNY Sauternes 2012
Ansonia Retail: $32
case, half-case: $26/bot


_
AVAILABLE IN 6- AND 12- BOTTLE LOTS
_
_
_
_____________________________
Sign up to receive these posts in your inbox:

__
_____________________________
_

_____________________________
–