Le weekend.  We spent some fine days with winemaker Michel Gros this weekend. On Friday afternoon we toured his vines with some friends from Boston, then returned to his cellar for a vertical tasting of his family's monopole. Then last night he and his wife joined us (and 600 others) for a grand dinner in the cave of the Chateau de Clos de Vougeot.
Gros is as modest as his wines are extraordinary – he regularly wins international awards for the wines he makes in "the greatest Pinot Noir village on earth." (Clive Coates MW) And yet he's happiest working in his vines, reminding us that great wines come first from vineyard work. More often than not he's washing dirt from his hands as we arrive for a tasting.
This week we tasted Gros's exceptional 2014s from cuve — (they will be bottled next month and available in November Futures). But we've already got quite a bit of Gros at the warehouse – and today we're offering one of our favorites.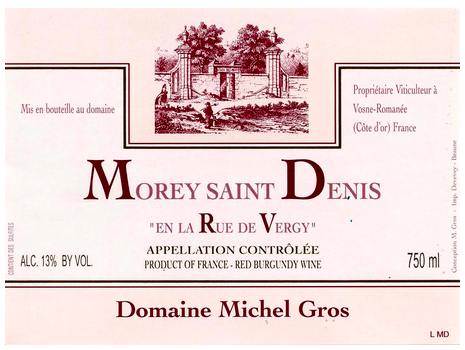 Silk and Earth.  The 2009 vintage was a banner year in Burgundy – perfectly healthy, ripe grapes, and plenty of them. Today we're offering Gros's 2009 Morey-St-Denis, a plot from which Michel makes fewer than 1000 bottles each year. Michel's vines in Morey are exceptionally well-situated, in a vineyard adjoining the Clos des Lambrays, the Clos de Tart, and Bonnes Mares, three of the region's most famous Grand Crus.
We have tasted a lot of wine over the past few weeks, and more than a little red Burgundy – but Gros's wines continue to stand out. This Morey-St-Denis is pinot noir at its very finest – ripe, round fruit from the famous vintage, now slightly softened six years on from the harvest, a silky and smooth mouthfeel with notes of cherries and toast, and a delicate, lace-like minerality.
We wish all of our readers could have joined us at the Clos Vougeot last night, but in its place we can offer an exceptional wine from one of Burgundy's finest citizens. Decant this for a half hour and use your biggest Burgundy glasses – you might even hear some singing below the rim.
________________________

GROS Morey-St-Denis 2009
Ansonia Retail: $76
quarter-case: $68/bot


_
AVAILABLE IN   3-    6-   AND  12-   BOTTLE LOTS
_
or call Tom: (617) 249-3657
_
_
_____________________________
Sign up to receive these posts in your inbox:

_
_____________________________

________________________

Terms of sale. Ansonia Wines MA sells wine to individual consumers who are 21 or more years of age, for personal consumption and not for resale.  All sales are completed and title passes to purchasers in Massachusetts.  Ansonia Wines MA arranges for shipping on behalf of its customers upon request and where applicable laws permit.