Spring Flowers.  We spent last Friday morning in the Beaujolais. It's a charming region — really a 30 mile vineyard punctuated by a handful of villages. The region's most widely distributed wine is an inexpensive and insipid red that's rushed to market several weeks after the harvest. But as connoisseurs have known for years, there's far more to Beaujolais than meets the eye.
The region is split into 10 small appellations called "Crus," each with its own distinct character. Among the most respected is Fleurie, a small village whose wines tend show a floral character — violets, dried roses, and lavender, among others. Our producer here is the Chateau de Juliénas, whose Fleurie 2013 is classic, bright, and lovely.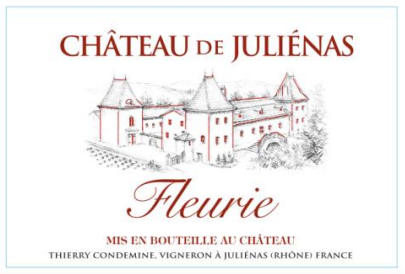 Summer Red.  Wines from the Crus of Beaujolais are made from Gamay, the same grape used to make Beaujolais Nouveau. But given time to ripen properly and a year or more to mature, real Beaujolais is a different thing entirely from its simple bacchanal cousin. The Chateau de Juliénas's Fleurie is lively and vibrant, showing the carefree joie-de-vivre for which the Beaujolais region is known.
For those in search of a refreshing summer red wine, look no further. Chill this a bit below cellar temperature, close your eyes, and you'll be transported to a Paris brasserie on a summer afternoon. The Fleurie is crisp, refreshing and full of energy, with notes of wild cherries and raspberry jam.
If a food pairing is necessary, find some young goat cheese and a cracker or crusty bread. Otherwise, this wine requires only a Friday afternoon, a friend or two, and a place from which to watch the world go by.
________________________

CHATEAU DE JULIÉNAS Fleurie 2013
Ansonia Retail: $26
case, half-case: $22/bot


_
AVAILABLE IN    6-   AND  12-   BOTTLE LOTS
_
or call Tom: (617) 249-3657
_
_
_____________________________
Sign up to receive these posts in your inbox:

_
_____________________________

________________________

Terms of sale. Ansonia Wines MA sells wine to individual consumers who are 21 or more years of age, for personal consumption and not for resale.  All sales are completed and title passes to purchasers in Massachusetts.  Ansonia Wines MA arranges for shipping on behalf of its customers upon request and where applicable laws permit.