Syrah unlike no other.  Other than the rock-covered fields of Châteauneuf-du-Pape, the vertiginous hillsides of the Côte Rôtie might seem the last place in the world to grow vines. With slopes reaching 60 degrees in places, all field work — planting, pruning, treating, harvesting — must be done entirely by hand. As we walked through the vines yesterday we again wondered aloud what could make this all worth it.
And then we visited Christophe Bonnefond. The syrah from Côte Rôtie is unlike any other — at once dense and balanced, inky and crisp, mouthfilling and fresh. Christophe and his brother Patrick produce small batch wines of pure, concentrated syrah. Their domaine is a bit hard to find (we've found ourselves lost more than once on the way) but their wines are pure and fine; Robert Parker calls them "some of the finest in the appellation."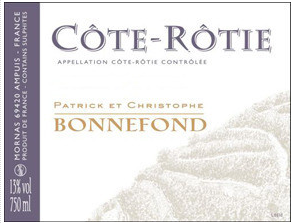 Inky and dense.  The Bonnefonds produce exceptional red wines, with notes of dark fruits and spice. They are rich without being heavy – only 13% alcohol – and there's an attractive liveliness often lacking in Syrah from the Southern Hemisphere. Bonnefond wines will age with no trouble for ten or more years. Yesterday we tasted the 2014s, which will appear in Futures later this year. Today we're offering their 2013.
The 2013 Côte Rôtie shows plum, roasted meats and black pepper; the mouth is spiced and dense, showing olives and dark chocolate, and a hint of smoke. The inky tannins here are firm but not harsh, and with a few hours in a carafe this is a lovely glass of wine. We wouldn't be the first to volunteer to work the vertigo-inducing "fields" of Bonnefond's vineyards, but we're certainly glad someone does.
________________________

BONNEFOND Côte Rôtie 2014
Ansonia Retail: $54
case, half-case: $42/bot


_
AVAILABLE IN    6-   AND  12-   BOTTLE LOTS
_
or call Tom: (617) 249-3657
_
_
_____________________________
Sign up to receive these posts in your inbox:

_
_____________________________

________________________

Terms of sale. Ansonia Wines MA sells wine to individual consumers who are 21 or more years of age, for personal consumption and not for resale.  All sales are completed and title passes to purchasers in Massachusetts.  Ansonia Wines MA arranges for shipping on behalf of its customers upon request and where applicable laws permit.