Vibrant.  Perhaps no wines in our portfolio more perfectly express their origin than those of the Mas Foulaquier. Our visit yesterday reminded us just how special this place is. Guided by a fervent belief in biodynamics, these vignerons have set their domaine in a old stone farmhouse on a sunny, idyllic hillside in Southern France.
The vineyards at Foulaquier literally buzz with life — insects and bees dart among the rows of vines, between which grows wild herbs, grasses, and flowers. Toward the end of our visit, winemaker Blandine Chauchat led us down to a rugged pasture where the domaine's brebis goats froliced cheerfully. The goats, she explained, are let loose into the vines from time to time to trim the grasses and fertilize the soil.
We're not sure what Eden looked like, but if there was a vineyard it couldn't have been much different from this.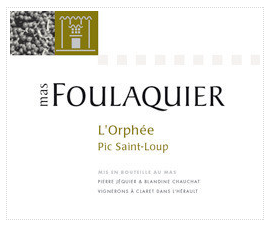 Inky.  Foulaquier's wines are just as vibrant and dynamic as the vineyards. If you're a wine drinker who sometimes finds "natural" wines muddy or gritty, Foulaquier's reds may just change your mind. Using no pesticides, wild ambient yeasts, and bottling without fining or filtering, the vignerons at Foulaquier still manage to create pure, exuberant wines that are also silky and elegant.
Today we're offering Foulaquier's simplest red — the Orphée 2014. A blend of grenache and syrah, this dark, punchy wine is at once dense and inky, but lively and fresh. The tannins are young and pleasantly ripe; the nose shows plum, blackberry, and hints of the Provencal underbrush known as garrigue.
We wish we could bring all of our readers to this pastoral utopia in the Languedoc. But short of a visit, we recommend a glass of their wine. Open it outdoors; close your eyes, listen to the birds, and imagine yourself in the sunny South of France.
________________________

FOULAQUIER Orphée 2014
Ansonia Retail: $24
case, half-case: $19.95/bot


_
AVAILABLE IN    6-   AND  12-   BOTTLE LOTS
_
or call Tom: (617) 249-3657
_
_
_____________________________
Sign up to receive these posts in your inbox:

_
_____________________________

________________________

Terms of sale. Ansonia Wines MA sells wine to individual consumers who are 21 or more years of age, for personal consumption and not for resale.  All sales are completed and title passes to purchasers in Massachusetts.  Ansonia Wines MA arranges for shipping on behalf of its customers upon request and where applicable laws permit.