Value.  Chablis has had a rough year so far. With hailstorms and late frosts devastating the region this spring, our conversations during yesterday's tastings all turned to the cruel whims of Mother Nature. It would have been an entirely depressing visit had it not been for the two most recent, truly excellent vintages already in the cellars.
The wines of 2014 and 2015 include some of the freshest, most drinkable Chablis we can remember. Our favorite wine from Cyril Gautheron is his premier cru Vaucoupin, a wine that marries the richness and complexity of a premier cru with the classic stony freshness of Chablis. The 2015 won't be available for many months, but there's no need to wait for the 2014 — it's already at the depot in Newton.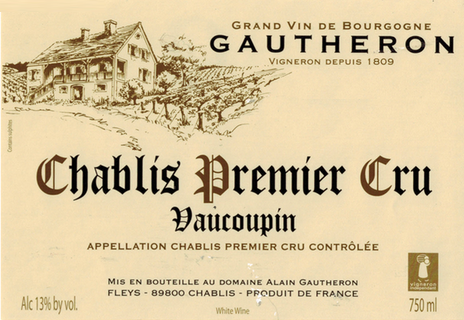 Pure.  Many young Chablis winemakers use oak in their premier crus to add richness and depth, but with his Chablis 1er cru Vaucoupin Gautheron avoids this temptation. This wine is entirely vat raised, allowing the wine's natural complexity and minerality to shine through. Today the 2014 shows a ripe, savory, and lemon zest nose alongside a beautiful chalky minerality. The mouth is rich but precise, with a hint of salinity next to the citrus and stones.
This is a perfect summer white — it's rich enough to serve on its own at a cocktail party, yet zippy enough to match even a flavorful fish or shellfish dish. Sushi or raw oysters might be its best accompaniment, but all this really needs is a warm summer evening and a few glasses.
________________________

GAUTHERON Chablis 1er Vaucoupin 14
Ansonia Retail: $30
case, half-case: $25/bot


_
AVAILABLE IN    6-   AND  12-   BOTTLE LOTS
_
or call Tom: (617) 249-3657
_
_
_____________________________
Sign up to receive these posts in your inbox:

_
_____________________________

________________________

Terms of sale. Ansonia Wines MA sells wine to individual consumers who are 21 or more years of age, for personal consumption and not for resale.  All sales are completed and title passes to purchasers in Massachusetts.  Ansonia Wines MA arranges for shipping on behalf of its customers upon request and where applicable laws permit.