In Burgundy, Grand Cru is as good as it gets. Only 1.3% of wines from Burgundy have the designation, and these are the finest bottles the region has to offer. They're not exactly priced for weeknight enjoyment, but when there's a special occasion, they're awfully nice to have around.
This week (and for one week only) we're putting all of our Grand Crus on sale, ranging from 15-25% off. No minimum for any wine — order any 6 and shipping is free.
Quantities range from limited to extremely limited; first come, first served.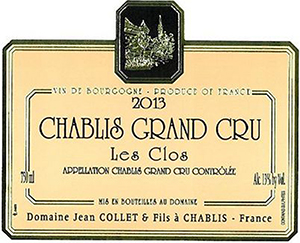 ______________________________________
GRAND CRU WHITE BURGUNDY
COLLET Chablis Grand Cru "Valmur" 2013    $66   $49
COLLET Chablis Grand Cru "Valmur" 2012    $66   $54
COLLET Chablis Grand Cru "Valmur" 2010    $66   $54
Jean Collet's Valmur is classic Chablis — brisk, stony minerality, pleasant ripe lemon fruit, and very subtle use of oak.
COLLET Chablis Grand Cru "Les Clos" 2013    $72   $62
Clive Coates describes "Les Clos" as "Chablis at its very, very finest… combining depth, intensity, and great elegance." This is famously long lived wine; it drinks well now, but the longer you keep it the better it will be.
RAVAUT Corton-Charlemagne Grand Cru 2013    $98   $79
Gaston and Pierre Ravaut's Corton-Charlemange is magnificent white Burgundy, with extraordinary depth and length. The oak is present and will continue to melt into the fruit with bottle age.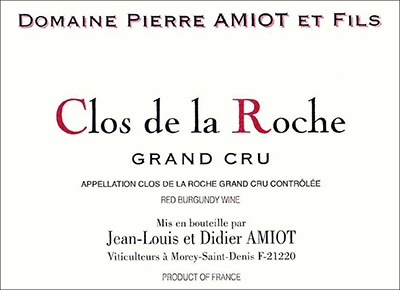 ______________________________________
GRAND CRU RED BURGUNDY
AMIOT Clos de la Roche Grand Cru 2009    $145   $124
AMIOT Clos de la Roche Grand Cru 2010    $145   $124
AMIOT Clos de la Roche Grand Cru 2012    $138   $119
AMIOT Clos de la Roche Grand Cru 2013    $130   $109
The Clos de la Roche Grand Cru from Jean-Louis Amiot is excellent each year, with gingerbread and toast in the nose and a long, concentrated lush mouthfeel. The 09 and 12 show juicy tannins, the 2010 additional elegance, and the 13 a pleasant earthiness that will develop with time.
AMIOT Clos St-Denis Grand Cru 2007    $125   $99
Now 9 years on from the harvest, this elegant Grand Cru is complex and lively; look for persistent minerality and beautiful length. Best served with food.
AMIOT Charmes-Chambertin Grand Cru 2011    $140   $119
This wine is as charming as the name suggests. The 2011s are beginning to drink beautifully now, and this wine should retain some of its youthful notes of fruit and violets, while beginning to add notes of forest floor and mushrooms.

QUIVY Charmes-Chambertin Grand Cru 2013    $160   $135
The prestigious Guide Hachette calls Gérard Quivy "undoubtedly one of the reference points in the appellation" of Gevrey Chambertin. Like Quivy's other wines, his Charmes-Chambertin is elegant and silky, trading extraction for a gorgeous mouthfeel.
RAVAUT Corton-Bressandes Grand Cru 2010    $98   $85
RAVAUT Corton-Bressandes Grand Cru 2013    $95   $79
Ravaut's red Grand Cru ages just as well as their white. Along with "Renard," "Bressandes" is known as the finest parcel in the Grand Cru Corton, and Ravaut's is an excellent example. The 2010 is finely grained and extraordinarily dense; the 13 is bright and earthy, and will gain weight with time.
________________________

ALL WINES AVAILABLE BY THE BOTTLE
EAST COAST SHIPPING IS FREE ON 6 OR MORE BOTTLES
_
or call Tom: (617) 249-3657
_
_
_____________________________
Sign up to receive these posts in your inbox:

_
________________________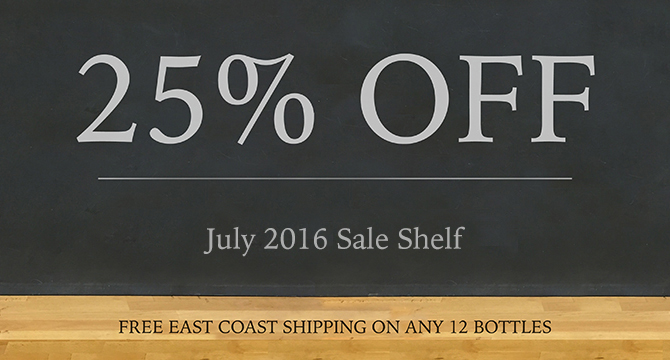 ________________________

Terms of sale. Ansonia Wines MA sells wine to individual consumers who are 21 or more years of age, for personal consumption and not for resale.  All sales are completed and title passes to purchasers in Massachusetts.  Ansonia Wines MA arranges for shipping on behalf of its customers upon request and where applicable laws permit.