Hot weather makes wine pairing tricky. Our main criteria for summer wines are threefold: low alcohol, good acidity, and chillable. White wine is the obvious choice, but we enjoy serving a few of our reds cool from time to time. The best of these are what the French call vins de soif — wines for thirst.
So we've collected four crisp, refreshing wines that you can enjoy even when temperatures push up towards 100. Two are white — bright, crisp, and minerally; and two are red — dry, fruit-forward, and refreshing. These aren't wines to sit with and contemplate — they're well made but uncomplicated. Serve them in a big bucket of ice on a beach or a roof deck.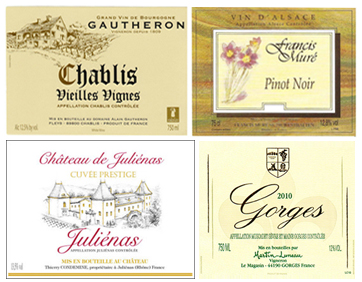 Muré Pinot Noir 2014
Francis Muré's Pinot Noir is all about exuberant, Alsatian fruit — look for cherries, wildflowers and honey in this floral wine with a cool, refreshing mouthfeel.
Juliénas Prestige 2013
This Beaujolais from Juliénas is far more interesting than its nouveau cousin — but it retains Beaujolais's signature joie de vivre. Look for notes of cranberry and stones.
Gautheron Chablis Vieilles Vignes 2014
Cyril Gautheron's old-vine Chablis is bright, crisp, and vibrant. It's pure chardonnay, with notes of lemon rind and mango alongside brisk, stony acidity.
Martin-Luneau Muscadet "Gorges" 2010
This Muscadet from the Loire Valley is the quintessential French summertime white. Look for melon and stones in the nose; drink this by the ocean and match the saline air with the aromas from your glass.
_
MIXED CASE:
REFRESHING WINES FOR THE SUMMER HEAT
3x   MURÉ Pinot Noir 14:   $22
3x   JULIÉNAS Prestige 13:   $24
3x   GAUTHERON Chablis Vieilles Vignes 14:   $26
3x   M-LUNEAU Muscadet "Gorges" 10:   $24
_______________________
Ansonia Retail: $288
mixed case price: $235/case

free East Coast shipping   |   save $53
_ 
_
–
– _
_____________________________
Sign up to receive these posts in your inbox:

__
_____________________________

–