Depending on where it's grown, Syrah produces an enormous range of wines. Its most famous home is the Northern Rhône Valley, where winemakers grow pure Syrah on the steep hillsides of Côte Rôtie and Saint-Joseph. Further south, Syrah takes on a bit more muscle, and if not monitored carefully, can over-ripen and become heavy and hot.
We've put together four syrah-based wines that show the spiciness and balance possible from the grape. Two are pure syrah from the Northern Rhone, showing the pepper and vibrancy for which the region is known. The other two are syrah-blends from the south, but from high elevation vineyards, and from winemakers who achieve a delicate, careful balance.
Syrah is a perfect summer red — dark and smoky enough to pair with grilled meats, but mid-weight and lively enough to enjoy in muggy weather.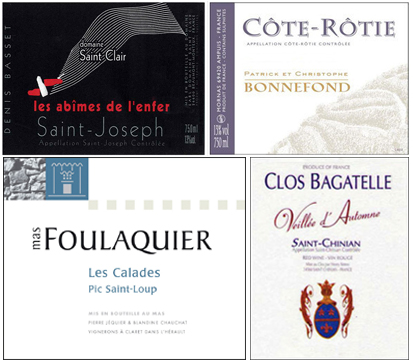 Saint Clair Saint-Joseph 2014
Denis Basset is an energetic young winemaker who seems to make better wine each year. His 2014 Saint-Joseph is the best he has made, showing roasted meat, blackberry jam, and licorice — all at 13% alcohol.
Bonnefond Côte Rôtie 2013
Many consider Côte Rôtie the highest expression of Syrah — from vertigo-inducing hillsides, brothers Christophe and Patrick Bonnefond craft dense, classic syrah, showing olive, dark chocolate, and a hint of smoke; again, all without exceeding 13%.
Bagatelle Veillée d'Automne 2013
The winemakers at Clos Bagatelle blend in splashes of carignan and cinsault to this cuvée, but the cool, ripe syrah dominates. Look for plums and dark fruits, with a chewy mouth and a lively stoniness to keep it fresh.
Foulaquier Calades 2013
The winemakers at the Mas Foulaquier in Pic-St-Loup use biodynamic techniques in the vineyard and cellar to achieve remarkable complexity and balance. "Calades" is their excellent majority-syrah wine, showing cloves, blackberries and black pepper, with a cool jammy mouthfeel.
_
MIXED CASE: BALANCED SYRAH
3x   SAINT CLAIR Saint-Joseph 14:   $32
3x   BONNEFOND Côte Rôtie 13:   $54
3x  BAGATELLE Veillée d'Automne 13:   $24
3x   FOULAQUIER Calades 13:   $34
_______________________
Ansonia Retail: $432
mixed case price: $365/case

free East Coast shipping   |   save $67
_ 
_
–
– _
_____________________________
Sign up to receive these posts in your inbox:

__
_____________________________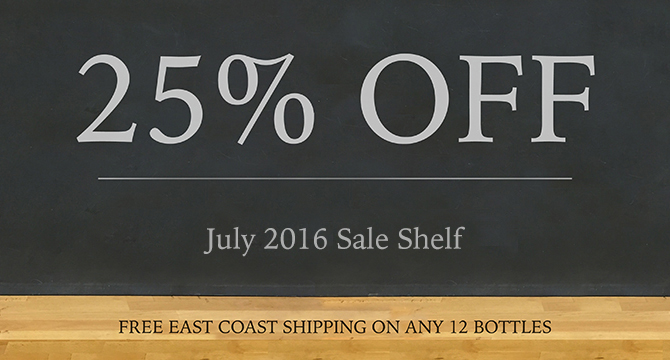 –