Stewards.  From a distance, it's easy to forget that our winemakers are farmers before anything else. Viticultural matters occupy the majority of their days, and it's impressive to step back and remember that the delicate, polished creations in a bottle spring from capricious plants on hillsides of dirt.
Last month Nicolas Haeni took us up into the hills behind Séguret to show us "Malmont," plot of terraced, west-facing vines. The floraison had just begun, and the smell of wild herbs and new flowers wafted up as we strolled between the rows.
Nicolas is as passionate as any young winemaker we know, and his bursting, healthy vines are a testament to the work that goes into pesticide-free farming. With no staff or team of workers, Nicolas does it all himself; he knows every inch of his vineyard like the back of his hand.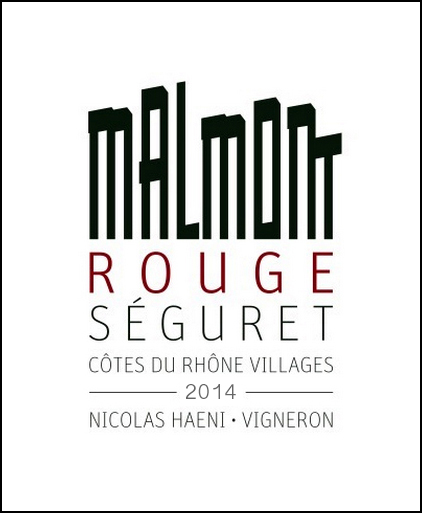 Plum and Toast. The Malmont wines are as much the product of Nicolas's passion and energy as they are of the land. These wines are some of the purest and most complete expressions of Southern Rhône terroir we know. We tasted his 2015s in barrel in June, which are young and ripe and tannic — we expect them to be exceptional, but to require a bit of time (see this November's Futures).
In the meantime, we're pleased to report that Nicolas's Séguret 2014 is just delicious these days. An extra year in the bottle has rounded it out nicely — the nose shows violets and dark burnt cherries, with black pepper and a hint of toast. In the mouth there's ripe, pleasant, juicy tannin, with notes of plum and blackberry.
From a tiny plot of vines on a steep hillside, and a garage-sized winery attached to his house, Nicolas Hanei produces vibrant, complex, extraordinary wines. We could go on, but a glass of the wine will speak best.
________________________

MALMONT Séguret 2014
Ansonia Retail: $30
case, half-case: $25/bot


_
AVAILABLE IN   6-   AND  12-   BOTTLE LOTS
_
or call Tom: (617) 249-3657
_
_
_____________________________
Sign up to receive these posts in your inbox:

_
________________________


________________________

Terms of sale. Ansonia Wines MA sells wine to individual consumers who are 21 or more years of age, for personal consumption and not for resale.  All sales are completed and title passes to purchasers in Massachusetts.  Ansonia Wines MA arranges for shipping on behalf of its customers upon request and where applicable laws permit.