Forgotten.  Aligoté is Burgundy's other white grape. Forever in the shadow of the finest Chardonnays in the world, Aligoté is rarely profound and never expensive. We've searched for years for one to add to our lineup, and have usually come up empty — most are too acidic, unbalanced, or thin.
But in June, we at last discovered the wine we had been seeking. Boyer-Martenot's Aligoté is unlike any other we've had. Vincent Boyer, a highly skilled craftsman of rich, elegant Meursault, has managed to add a bit of his magic to this grape. Forget what you know about Aligoté — Boyer's is real white Burgundy.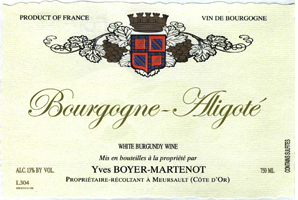 Smooth.  Drawing from vines with an average age of over 40 years, and from the ripest vintage (2015) in over a decade, Boyer's Aligoté is smoother and rounder than any we've had. The secret is his use of 5- and 7-year-old barrels to age the wine — barrels too old to impart much oak flavor, but which aid in microoxygenation and add softness and depth.
In the nose Boyer's 2015 Aligoté shows wild honey and herbs, with white flowers and classic green apple. The mouth is bright and lively, with a dry, chalky richness that's nearly unheard of for Aligoté. For readers interested in making kir, in just 5 days we're introducing an extraordinary source for crème de cassis — a glass of this wine joined by a splash of cassis will be a fantastic match.
But, for once, the cassis isn't mandatory — this is a crisp, pleasant glass of white Burgundy on its own.
________________________

BOYER-MARTENOT Aligoté 2015
Ansonia Retail: $24
offer price: $19/bot


_
AVAILABLE IN   6-    AND   12-BOTTLE LOTS
_
or call Tom: (617) 249-3657
_
_
_____________________________
Sign up to receive these posts in your inbox:

_
________________________


________________________

Terms of sale. Ansonia Wines MA sells wine to individual consumers who are 21 or more years of age, for personal consumption and not for resale.  All sales are completed and title passes to purchasers in Massachusetts.  Ansonia Wines MA arranges for shipping on behalf of its customers upon request and where applicable laws permit.