Rare.  Meursault is one of the oldest villages in Burgundy. The monks of Citeaux first planted vineyards here in 1098, and over the last 900 years the wines of Meursault have developed a reputation as some of the finest in the world. They were favorites of Thomas Jefferson, and today grace the wine lists and Instagram feeds of the celebrity sommelier class.
The wines of Meursault are known for their rich, honeyed aromatics, and for a near-perfect balance between mouth coating texture and acidity. Our source for Meursault is the Domaine Boyer-Martenot, a small producer in the heart of the town whose star is rapidly rising. Wine writer Allen Meadows (Burghound) was direct, writing that "Vincent Boyer produced simply terrific wines in 2013."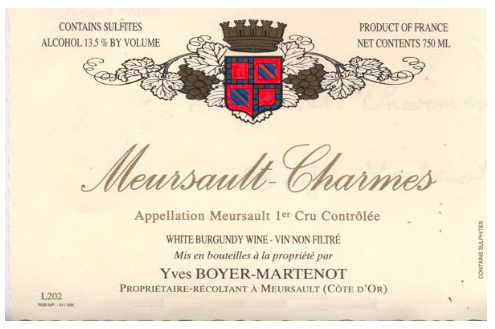 Charming.  The Meursault premier cru vineyard "Charmes" lies along the border with Puligny-Montrachet, but its identity is firmly in Meursault. The nose of Charmes is woodsy and classically Meursault, showing buttered toast, lemon, and faint notes of herbs. The mouth is extraordinarily long and intense, with notes of white flowers, almond, mango, and vanilla.
If you've never tasted a Meursault before, try this one — it could convert anyone to the town. Just in case the wine itself isn't rich enough for you, we note that Vincent suggests serving it with foie gras and truffles. While we can't argue with that mouthwatering pairing, we'd suggest chicken with white wine and crème fraîche. Charmes is a perfect wine for a Sunday afternoon meal — a bottle of history, luxury, and charm.
________________________

BOYER-MARTENOT Meursault 1er "Charmes" 2013
Ansonia Retail: $75
quarter-case: $64/bot


_
AVAILABLE IN   3-   6-   AND  12-   BOTTLE LOTS
_
or call Tom: (617) 249-3657
_
_
_____________________________
Sign up to receive these posts in your inbox:

_
________________________


________________________

Terms of sale. Ansonia Wines MA sells wine to individual consumers who are 21 or more years of age, for personal consumption and not for resale.  All sales are completed and title passes to purchasers in Massachusetts.  Ansonia Wines MA arranges for shipping on behalf of its customers upon request and where applicable laws permit.