Spice.  If Burgundy is the heart of the Pinot Noir universe, then Vosne-Romanée is the heart of Burgundy. Celebrated for more than eight centuries and boasting some of the world's most sought-after wines, Vosne-Romanée is Mecca for Burgundy enthusiasts and Pinotphiles around the world.
Vosne's eight famous grand cru vineyards may get most of the acclaim, but, as a monk wrote centuries ago, "there are no ordinary wines in Vosne." At the premier cru and village level too, the wines show unrivaled depth and elegance. There's a unique floral character to the best wines from Vosne, a blend of silky finesse with pure intensity — the pinnacle of Pinot elegance.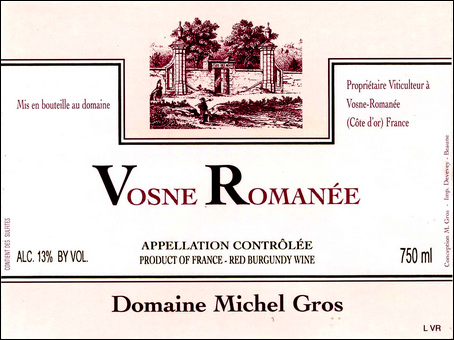 Legacy.  Winemaker Michel Gros has lived his entire life in Vosne-Romanée — his family has made wine there for nearly 200 years, his mother was once the mayor. Today Michel's domaine is world famous as a top source for red Burgundy, and the wines from Vosne are at the heart of his lineup.
Michel's village level Vosne 2011 is a pure expression of the town's extraordinary terroir. From an early drinking vintage whose wines have begun to show beautifully, this is five year old red Burgundy about to hit its prime. The nose is gently perfumed, showing an array of cinnamon and other spice, alongside the classic violet notes specific to the hallowed town. The mouth is dense and pure, with firm young tannins that melt silkily after an hour or so.
This is a wine to sit with and contemplate on a winter's Sunday afternoon — decant a bottle as you put a roast into the oven, and then pour yourself a glass at the one hour mark. You'll understand the 800 years of fame and praise.
________________________

GROS Vosne-Romanée 2011
Ansonia Retail: $74
quarter-case: $62/bot


_
AVAILABLE IN   3-   6-  AND 12-  BOTTLE LOTS
_
or call Tom: (617) 249-3657
_
_
_____________________________
Sign up to receive these posts in your inbox:

_
_____________________________

_____________________________
Terms of sale. Ansonia Wines MA sells wine to individual consumers who are 21 or more years of age, for personal consumption and not for resale.  All sales are completed and title passes to purchasers in Massachusetts.  Ansonia Wines MA arranges for shipping on behalf of its customers upon request and where applicable laws permit.