Saint-Valentin.  In France, Saint-Amour is known as the most "romantic" of the Beaujolais Crus. Located at the northern end of the Beaujolais region, it's neither the richest nor the most tannic wine of the region. But the wines from this Cru possess a silky, enchanting quality. Whether it's the amorous name or the smooth berry fruit, there's always something charming about Saint-Amour.
Today's Saint Amour is from the famous 2015 vintage, among the best in a generation in Burgundy. A warm dry summer resulted in near-perfect conditions for winemaking, and the results in the Beaujolais (what's left of them) speak for themselves. If you don't have something planned for Valentine's day in a few weeks, consider picking up a few of these.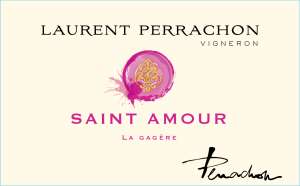 Fruit.  We discovered Laurent Perrachon last summer, and have blown through our stock nearly everything we bought from him since. (We held onto the Saint-Amour for a February release.) Perrachon is one of very few Beaujolais winemakers to be featured in both Burghound's (Allen Meadows) newsletter and Antonio Galloni's Vinous, and most of his wines score in the 90s in both publications.
The soils in Saint Amour are full of schist and limestone, which make for wines with soft, floral character, balanced by an energetic minerality. Perrachon's 2015 Saint Amour shows beautiful raspberry and cassis fruit in the nose, with bright red flowers and a pleasant chalky minerality. The mouth is crisp and juicy, with a smooth palate and a refreshing, fruit-laden finish.
________________________

PERRACHON Saint-Amour 2015
Ansonia Retail: $24
case, half-case price: $19.95/bot

_
AVAILABLE IN   6-   AND  12-   BOTTLE LOTS
Email Tom to place an order.
or call Tom: (617) 249-3657
_
_
_____________________________
Sign up to receive these posts in your inbox:

_.
_____________________________
Terms of sale. Ansonia Wines MA sells wine to individual consumers who are 21 or more years of age, for personal consumption and not for resale.  All sales are completed and title passes to purchasers in Massachusetts.  Ansonia Wines MA arranges for shipping on behalf of its customers upon request and where applicable laws permit.