When temperatures plunge and frigid winds whip around our house, we like to fill our glasses with something rich and mouthfilling. For us that means wines made from Grenache, Syrah, and others from the Rhône Valley. These are cozy wines from the sunbaked climes of France's south — reds with depth and intensity, though carefully balanced to avoid heaviness.
So today we've put together a mixed case of Cold Weather Reds. These are either pure Grenache, pure Syrah, or a blend of the two. They average about $22/bot, so should lend themselves nicely to weeknight enjoyment. Pair them with stews and hearty pastas, or a book, an armchair, and a blanket.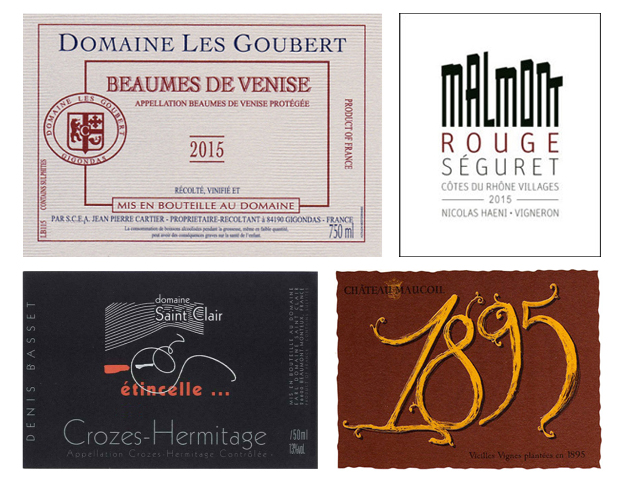 ..
MAUCOIL Cuvée 1895 2014
This 100% Grenache cuvée comes from vines planted over 120 years ago, just outside Châteauneuf-du-Pape. It's rich, smooth, and generous, with notes of wild cherries and licorice.
GOUBERT Beaumes-de-Venise 2015
This is a Grenache-Syrah-Cinsault blend, from a master of Southern Rhône winemaking. Look for dark, earthy notes, strawberry jam, herb honey, and a beautiful, weathered mouthfeel.
MALMONT Seguret 2015
Malmont's Greanche-Syrah blend is very long and rich, with the concentration and structure found in much fancier wines. Look for lavender, cassis, black pepper, and raspberry jam.
SAINT CLAIR Crozes-Hermitage 2014
This is a pure Syrah wine from the southern end of the Northern Rhône. There's savory black fruit and bacon in the nose; the mouth is vibrant and dark, with notes of violets and blackberries.
________________________

_
COLD WEATHER REDS
3x   MAUCOIL "Cuvée 1895" 2014:   $30
3x   GOUBERT Beaumes-de-Venise 2015:   $22
3x   MALMONT Séguret 2015: $30
3x  SAINT CLAIR Crozes-Hermitage 2014:   $28
Ansonia Retail: $330
offer price: $265/case

free East Coast shipping    |    save $65
_ 
_
–
– _
_____________________________
Sign up to receive these posts in your inbox:

_
________________________

Terms of sale. Ansonia Wines MA sells wine to individual consumers who are 21 or more years of age, for personal consumption and not for resale.  All sales are completed and title passes to purchasers in Massachusetts.  Ansonia Wines MA arranges for shipping on behalf of its customers upon request and where applicable laws permit.