Style.  Many domaines imbue their wines with a distinct style, but at the Domaine Quivy the wines are unusually close expressions of their source. Gérard Quivy is a well dressed fifty-something winemaker, whose domaine is an impeccably restored 18th century manor house in Gevrey-Chambertin. Quivy's wines are similarly polished and elegant, as meticulous and refined as their maker and domaine.
Quivy's wines are all from Gevrey-Chambertin, a town whose terroir he knows intimately. His wines are a sophisticated take on this bold, masculine appellation, but remain true to Gevrey's character. The Guide Hachette, the premier French language wine guide, describes Quivy as "undoubtedly one of the reference points in the appellation."
Dense.  Today we're offering the last of our 2012s from Quivy, the village-level Gevrey-Chambertin "Journaux". This low-yield vintage turned out wines with excellent concentration and richness, and plump, juicy tannins. Combine this with Quivy's old Journaux vines, planted in 1933 and 1947, and you have a recipe for excellent wine. We had planned to offer Journaux in another few months, but the bottle we opened last week was so lovely that we couldn't delay
Quivy's 2012 Gevrey-Chambertin "Journaux" is gorgeous today. The nose is dark, warm and enticing, showing stewed cherries, gingerbread, and smoke. The structure in the mouth is firm but smooth, with elegant dark fruit and an effortless, delicate finish. Serve this with a fine cut of steak, something special enough to match this meticulously crafted red Burgundy.
________________________

QUIVY Gevrey-Chambertin "Journaux" 2012
Ansonia Retail: $56
case, half-case price: $48/bot

_
AVAILABLE IN   3-  6-   AND  12-   BOTTLE LOTS
Email Tom to place an order.
or call Tom: (617) 249-3657
_
_
_____________________________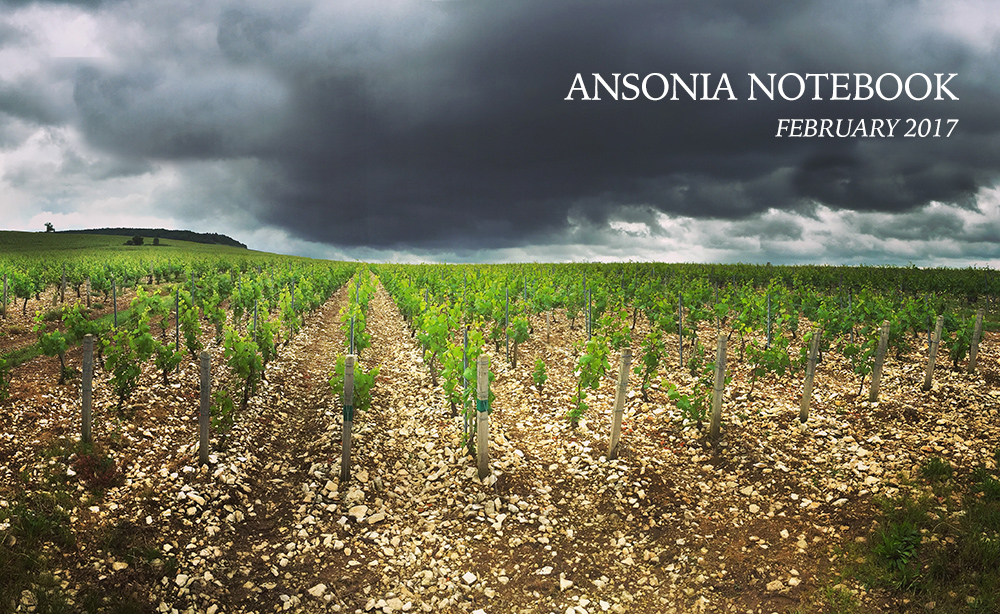 Sign up to receive these posts in your inbox:

_.
_____________________________
Terms of sale. Ansonia Wines MA sells wine to individual consumers who are 21 or more years of age, for personal consumption and not for resale.  All sales are completed and title passes to purchasers in Massachusetts.  Ansonia Wines MA arranges for shipping on behalf of its customers upon request and where applicable laws permit.