Go North.  Most grapes reach their finest expression at their northern ripening limit. The Pinot Noir of Burgundy; the Riesling of Germany's Mosel Valley; the Chardonnay of Chablis; the Syrahs of the Northern Rhone — many of the greatest wines in the world hail from their grape's northernmost ripening latitude. To that list we add today's wine made from pure Viognier: Condrieu.
Viognier is a hard grape to get right. Its juice is naturally very viscous, and because it's often grown in warm climates the resulting wine can lack in freshness and energy. But in Condrieu, where Viognier grows on the steep hillsides of the Northern Rhône Valley just south of Lyon, the grape takes on an elegance and weightlessness that's impossible elsewhere.
For viognier, there's Condrieu and then there's everything else.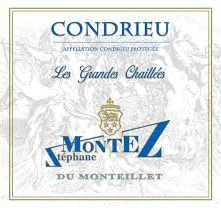 Effusive.  Stephane Montez is a passionate, driven young winemaker whose wines are pure, clean expressions of their terroir. His Condrieu is extraordinary — you can smell the aromas at several feet away from the glass. It's floral and expressive, showing notes of gardenia, mango and apricot. The mouth is round and soft but not at all flat, and showing very little oak. Look for honeysuckle, green tea, and peach.
Condrieu is all about aromatics, and we recommend pouring this into the biggest Burgundy balloon glass you have. The wine needs no accompaniment, and indeed, sitting with a glass of Condrieu on a winter's evening is one of life's great vinous pleasures. But should hunger arise, fresh to slightly aged goat cheese on crackers is an excellent match.
________________________

MONTEZ Condrieu 2015
Ansonia Retail: $56
quarter-case price: $48/bot

_
AVAILABLE IN   3-   6-   AND  12-   BOTTLE LOTS
Email Tom to place an order.
or call Tom: (617) 249-3657
_
_
_____________________________
Sign up to receive these posts in your inbox:

_.
_____________________________
Terms of sale. Ansonia Wines MA sells wine to individual consumers who are 21 or more years of age, for personal consumption and not for resale.  All sales are completed and title passes to purchasers in Massachusetts.  Ansonia Wines MA arranges for shipping on behalf of its customers upon request and where applicable laws permit.