Forgotten Valley.  Burgundies are not getting any cheaper. With limited supply and ever-increasing demand, good values are harder and harder to find. But one Burgundian town that continues to deliver far more than people expect is St-Aubin. And we're not the only ones to notice.
Jancis Robinson wrote recently that "St-Aubin, once regarded as definitively inferior to the most famous white wine villages Meursault, Puligny-Montrachet, and Chassagne-Montrachet, should now be regarded as virtually their equal. Many is the fine white from St-Aubin nowadays, but the prices have yet to catch up."
The wines of St-Aubin have everything we look for in White Burgundy. Clear chardonnay fruit, good balance between minerality and richness, and the ability to gain complexity with age. Our source here is Domaine Gérard Thomas, who makes excellent wine with his two daughters from their 30 acres of vines.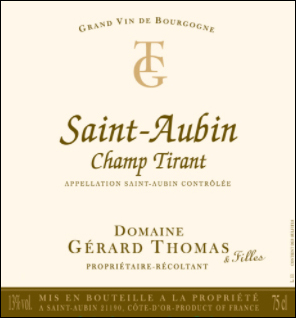 Next-level.  Thomas's Bourgogne blanc is the house white at many of our readers' homes. It's inexpensive, refreshing, and pairs with a wide range of dishes. Their St-Aubin has everything we like about the Bourgogne, only more of it. There's a noticeable jump in richness which, particularly in a ripe year like 2015, makes this drink like a much fancier wine.
The 2015 St-Aubin is immediately expressive in the nose, showing almonds, white flowers, and toast. The mouth is rich but lively — we were surprised (and pleased) at the amount of freshness balancing out 2015's ripeness. Look for notes of baked lemons and honey, and a mouthfilling richness. This should be wonderful for another 18 months or more, but it's awfully hard to put down today.
________________________

THOMAS St-Aubin 2015
Ansonia Retail: $35
6+ bottle price : $29/bot

_
AVAILABLE IN    6-   AND  12-   BOTTLE LOTS
Email Tom to place an order.
or call Tom: (617) 249-3657
_
_
_____________________________
Sign up to receive these posts in your inbox:

_.
_____________________________
Terms of sale. Ansonia Wines MA sells wine to individual consumers who are 21 or more years of age, for personal consumption and not for resale.  All sales are completed and title passes to purchasers in Massachusetts.  Ansonia Wines MA arranges for shipping on behalf of its customers upon request and where applicable laws permit.