The Northern Rhône is a long, narrow winegrowing region on the banks of the Rhône river. Perched along astonishingly steep hillsides just south of Lyon, the region grows only two grapes — viognier for whites, and syrah for reds. Both grapes reach their nothernmost ripening limit here, and the wines they produce represent the highest form of each varietal.
Today we're offering two whites and two reds from this region. The whites are both Viognier — one a simple everyday cuvée, and the other a magnificent Condrieu. The reds are pure Syrah — one from Saint-Joseph, and one from Côte Rôtie.
Syrah and Viognier are grown all over the world, but nowhere else do they taste quite like this.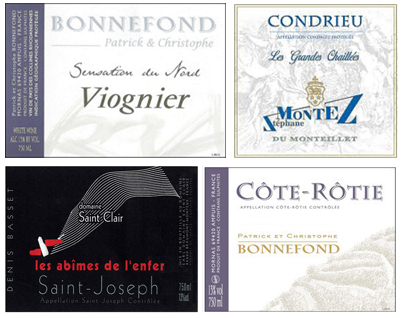 BONNEFOND Viognier 2015
When grown in hot climates Viognier can be heavy and flat; yet in the Northern Rhône it reaches an unusual balance. This entry-level viognier from a master winemaker in Côte Rôtie is perfumed and delightful — look for peach, mango, and honey.
MONTEZ Condrieu 2015
Condrieu is undisputed as the finest Viognier, grown on the vertigo-inducing banks of the Rhône river. Pour this into the biggest red-wine glass you own, swirl, and watch the aromas develop — look for gardenia, apricot, and green tea.
SAINT CLAIR Saint-Joseph 2014
In the best wines of Saint-Joseph, Syrah reaches a balance between dark meatiness and lively, texutred mouthfeel. Denis Basset is a rising star in the area, and his Saint-Joseph is inky dark and enticing but perfectly balanced. Look for black pepper, clove, and blackberry.
BONNEFOND Côte Rôtie 2014
Côte Rôtie is among the finest expressions of Syrah. Vinous calls Bonnefond's cuvées "some of the most extroverted" in the appellation, and we agree — they're awfully easy to enjoy. Look for a deep enticing mouthfeel with plum, roasted meats, dark chocolate, and smoke.
________________________

_
NORTHERN RHONE SAMPLER
3x   Bonnefond Viognier 2015:   $25
3x   Montez Condrieu 2015:   $56
3x   Saint-Clair Saint-Joseph 14:   $32
3x   Bonnefond Côte Rôtie 2014:   $54
Ansonia Retail: $501
offer price: $395/case

free East Coast shipping    |    save $106
_ 
_
–
– _
_____________________________
Sign up to receive these posts in your inbox:

_.
_____________________________
Terms of sale. Ansonia Wines MA sells wine to individual consumers who are 21 or more years of age, for personal consumption and not for resale.  All sales are completed and title passes to purchasers in Massachusetts.  Ansonia Wines MA arranges for shipping on behalf of its customers upon request and where applicable laws permit.