Exceptional.  There's been no shortage of hype surrounding the 2015 Red Burgundies. Even our favorite reviewers, who we follow in part because of their restraint, have been effusive. "One of the half-dozen top vintages for red Burgundy of the past generation," writes Steven Tanzer of Vinous; "a genuinely great vintage," opines Allen Meadows (Burghound). And indeed, our initial tastings from barrel and early bottles have confirmed this enthusiasm.
Many readers got a glimpse of the vintage through the excellent gamays from Monnet and Perrachon last fall. As the 2015 pinots from the Côte d'Or begin to arrive, we think you'll find the same delicious elements: perfectly ripe fruit, excellent density, and fine-grained tannins. In a word, they're a delight.
We plan to offer as many 2015 red Burgundies as we can get our hands on over the next year or so, but we're starting off today with one of the simplest: the 2015 Bourgogne rouge from Pierre Bourée.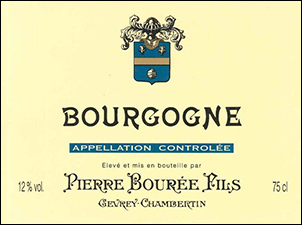 Density.  Pierre Bourée is an old-school producer in Gevrey-Chambertin. They use whole clusters and a longer-than-usual maceration, resulting wines with a rugged character that's reminiscent of an time gone by. Their 2015 Bourgogne rouge is an excellent entree to this exceptional vintage, showing an intensity and depth usually reserved for wines of higher classifications. It's accessible, ripe, and simply delicious.
Bourée's Bourgogne rouge 2015 doesn't require much thought or contemplation — the fruits are ripe and pleasant, making it effortlessly drinkable. The nose is dark and brooding, showing raspberries and stewed cherries. But it's in the mouth where it truly shines — there's a depth and intensity almost unheard of for a Bourgogne, with perfectly ripe fruit, juicy tannins, great length, and a clean delicious finish.
If you're already a fan of Burgundy, you are probably aware of all the buzz about the "15s;" and we heartily recommend this as a place to start. For those new to the region, here's a perfect first vintage to try.
________________________

BOURÉE Bourgogne rouge 2015
Ansonia Retail: $30
6+ bottle price : $25/bot

_
AVAILABLE IN    6-   AND  12-   BOTTLE LOTS
Email Tom to place an order.
or call Tom: (617) 249-3657
_
_
_____________________________
Sign up to receive these posts in your inbox:

_.
_____________________________
Terms of sale. Ansonia Wines MA sells wine to individual consumers who are 21 or more years of age, for personal consumption and not for resale.  All sales are completed and title passes to purchasers in Massachusetts.  Ansonia Wines MA arranges for shipping on behalf of its customers upon request and where applicable laws permit.