Fond. One of the most intoxicating aromas in cooking comes from the Maillard reaction. It's the flavor most often associated with browned meat, though it's also found in bread crusts, chocolate, coffee beans, and dark beer. First identified by Louis Camille Maillard, the reaction is similar to caramelization, but produces earthier, more complex flavors.
There aren't any Maillard reactions in the winemaking process, but from time to time the same aroma molecules appear in red wines. One of our favorite dishes that showcases Maillard's magic is Thomas Keller's skirt steak. And one of the best wine pairings we know for the dish is the red from Chateau Lafont Menaut in Pessac-Leognan in Bordeaux.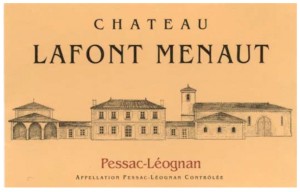 Plum jam and earth.  Lafont Menaut is the project of Philibert Perrin, whose family also owns neighboring Chateau Carbonnieux (one of three visited by Thomas Jefferson in 1786). He employs the same care and expertise at both properties. The Cabernet adds dark, briary notes of blackberry and currant, with the Merlot adding notes of plum jam.
Lafont Menaut is a classic, dark-palate Bordeaux, showing figs and currants alongside notes of cedar smoke and earth. It benefits greatly from 30 minutes or so in a glass or decanter. The 2014 has just arrived in our warehouse — a dark, rich vintage with ripe, juicy tannins. With both steak and wine on your table you may get confused about the source of some of the aromas — but we can assure you after a gulp of each the source won't much matter.
________________________

LAFONT MENAUT Pessac-Leognan 2014
Ansonia Retail: $26
6+ bottle price : $22/bot

_
AVAILABLE IN    6-   AND  12-   BOTTLE LOTS
Email Tom to place an order.
or call Tom: (617) 249-3657
_
_
_____________________________
Sign up to receive these posts in your inbox:

_.
_____________________________
Terms of sale. Ansonia Wines MA sells wine to individual consumers who are 21 or more years of age, for personal consumption and not for resale.  All sales are completed and title passes to purchasers in Massachusetts.  Ansonia Wines MA arranges for shipping on behalf of its customers upon request and where applicable laws permit.