This morning we visited our Northern Rhône producers, tasting wines from Crozes-Hermitage, Saint-Joseph, and Côte Rôtie. Winemakers here are basking in the glow of the 2015 vintage, said to be the best in 55 years. We don't have quite that long a memory, but from this morning's tastings we can confirm that this is an extraordinary vintage.
The finest Northern Rhône Syrahs are a study in finesse and subtlety. Their brilliance comes from their marriage of a dark, rich southern grape varietal with cooler northern climate. In 2015 in particular, the wines show an exquisite balance between an inky meatiness and a brisk fruitiness.
We've yet to have a bad 2015 Northern Rhône Syrah, but despite a crowded field, Denis Basset's old-vine Crozes-Hermitage "Fleur Enchanté" is a favorite. The Guide Hachette calls Basset's wines "a model of balance and finesse;" we call them dense, complex, and delicious.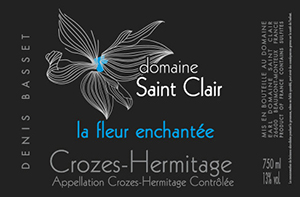 The 2015 Fleur Enchantée shows dark blackberry and cassis fruit in the nose, with violet and cloves alongside. The mouth is startlingly dense and fine, with a balanced mouthfeel and an extremely long finish that shows peppercorn, plum, and wild cherry jam. From nearly 50 year old syrah vines and aged carefully for a year and a half before bottling, this is an extraordinarily dense and mouthfilling Syrah.
It'd be an impressive wine at $40/bot, and no one would be disappointed. At $25, it has to be among the best buys in our lineup. If you're a fan of Northern Rhône syrahs, you already know to expect great things from this wine. If you're new to the region, 2015 is a great place to start — there might not be another chance like this for half a century.
________________________

SAINT CLAIR Crozes-Hermitage "Fleur Enchanté" 2015
Ansonia Retail: $30
6+ bottle price : $25/bot

_
AVAILABLE IN    6-   AND  12-   BOTTLE LOTS
Email Tom to place an order.
or call Tom: (617) 249-3657
_
_
_____________________________
Sign up to receive these posts in your inbox:

_.
_____________________________
Terms of sale. Ansonia Wines MA sells wine to individual consumers who are 21 or more years of age, for personal consumption and not for resale.  All sales are completed and title passes to purchasers in Massachusetts.  Ansonia Wines MA arranges for shipping on behalf of its customers upon request and where applicable laws permit.