There's something exceptionally pleasant about the pace of life in the South of France. Since arriving Sunday afternoon we have eaten five of our six meals outside, under clear blue Provencal skies and a gentle, refreshing breeze. Winemakers greet us with quick smiles and warm welcomes. Even the often sullen waiters seem a bit more at ease (as long as you don't need your check fast).
Joie de vivre has long been tradition here. Two thousand years ago the town of Gigondas was a vacation spot for Roman soldiers. They named the place jucunditas, a latin word that means enjoyment, delight, and pleasure. The spelling has changed a little since then, but the charm has not. Today it's as quaint and pleasant a town as any in France — and it has delicious wine to match.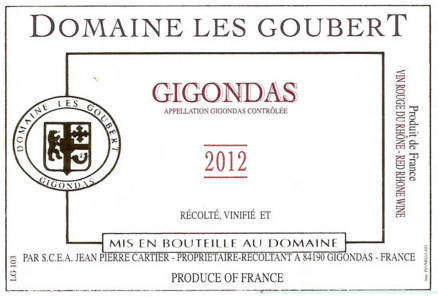 We spent this morning tasting with our friends the Cartiers at the Domaine les Goubert in Gigondas. Jancis Robinson and Robert Parker consider them a "reference point" for the village, and we've been enjoying their Gigondas since the early 1990s. We have yet to see a bad vintage, but even amid astonishing consistency, the 2012s stand out.
In 2012 Goubert's signature Gigondas is dark and smooth and full, with pleasant red fruits playing beautifully off the provencal spice below. The nose shows bright red flowers and dark rich fruit, hitting high notes and low notes simultaneously in a harmony unusual even for the Cartiers. The mouth is sturdy and meaty, with cool dark tannins and impressive length. Serve this with grilled meats, rustic salads, or hard sheep's milk cheese, particularly on a picnic.
If you're ever in the South of France, we recommend a visit to Gigondas — you'll see why the Romans came back year after year. But if it's charm and enjoyment and joie de vivre you're after, this bottle will get you most of the way there.
________________________

GOUBERT Gigondas 2012
Ansonia Retail: $30
6+ bottle price : $25/bot

_
AVAILABLE IN    6-   AND  12-   BOTTLE LOTS
Email Tom to place an order.
or call Tom: (617) 249-3657
_
_
_____________________________
Sign up to receive these posts in your inbox:

_.
_____________________________
Terms of sale. Ansonia Wines MA sells wine to individual consumers who are 21 or more years of age, for personal consumption and not for resale.  All sales are completed and title passes to purchasers in Massachusetts.  Ansonia Wines MA arranges for shipping on behalf of its customers upon request and where applicable laws permit.