Unique.  Chablis is a singular place. Its combination of deep stony soils and cool climate exists nowhere else on earth. These factors produce a similarly unique wine — mineral and crisp, pure and clean. Our goal as importers is to find wines that reflect the place from which they come, and there is no better place to find such wines than Chablis.
Cyril Gautheron is a rising star here. The Gautheron Family has made wine in Chablis for 200 years, but Cyril has taken the reins with an unusual passion. Our visits with him regularly run late as he explains the intricacies of his family's property, and shows us unblended lots from dozens of plots.
Today's wine, the Chablis 1er cru "Vaucoupin" is pure, elegant Chardonnay. In an era where many Chablis vignerons add oak to their 1er crus, Gautheron keeps his entirely unoaked, allowing the stony soil to show through as delicate minerality.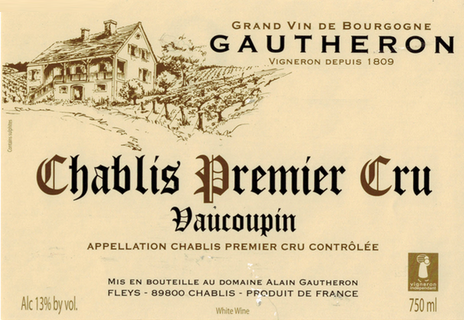 Flint.  Yesterday we opened the newest vintage of Vaucoupin, and it's simply a delight. We served it alongside a few dozen oysters, and it reminded us why the pairing is so famous. The Vaucoupin has remarkable richness for a wine without oak — purity and elegance that is exceptional. The briny freshness of oysters (or a lemony-prepared fish) is a perfect foil for the brisk energy of the Vaucoupin.
The Vaucoupin 2015 is rounder than much Chablis — the old vines, premier cru classification, and sunny vintage create a wine that drinks really nicely on its own. But make no mistake: this is crisp, lively, and fresh. Cyril has managed to keep an impressive amount of acidity. The nose shows lemon rind and salt air; the mouth is smooth and full but with a crisp line of refreshing minerality.
It's hard to imagine a purer interpretation of the Chardonnay grape. Put alongside a plate of fruits de mer or a simply grilled fish, and you'll know that summer has indeed arrived.
________________________

GAUTHERON Chablis 1er cru "Vaucoupin" 2015
Ansonia Retail: $30
6+ bottle price: $25/bot


_
AVAILABLE IN    6-    AND   12-  BOTTLE LOTS
_
Email Tom to place an order.
or call Tom: (617) 249-3657
_
_
_____________________________
Sign up to receive these posts in your inbox:

_
_____________________________
Terms of sale. Ansonia Wines MA sells wine to individual consumers who are 21 or more years of age, for personal consumption and not for resale.  All sales are completed and title passes to purchasers in Massachusetts.  Ansonia Wines MA arranges for shipping on behalf of its customers upon request and where applicable laws permit.