Perfection.  The 2015 vintage in Red Burgundy has been called one of the best in decades. Ideal growing conditions produced perfectly ripe fruit, resulting in wines that are full bodied, deeply colored, and simply delicious. We tasted over a hundred during our tasting trip last month, and the vintage is undoubtedly one of the best we've seen.
Many of the wines, however, will require aging to reach their potential. Ripe, sturdy tannins should carry these wines well into the future, and some of the finest cuvées will seem young for several years to come.
But not all of them. Winemakers like Roger Belland in Santenay make wines for the much shorter term. They're drinkable young every year, and in a vintage like 2015, they are already delightful. If you're eager to get your hands on this legendary vintage, but don't have the patience or cellar space to hang on to them, today's wine is for you.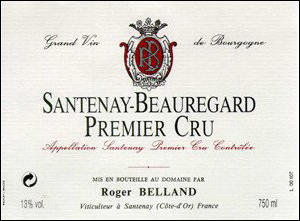 Drink-Now.  Roger Belland and his daughter Julie are 5th and 6th generation winemakers in Santenay, at the southern end of the Côte d'Or. They have avoided pesticides for decades, and create ripe, delicious wines year in and year out. Their 2015 Santenay 1er cru "Beauregard" shows everything that is great about this vintage: perfectly rounded tannins, abundant ripe fruit, and a mouthfilling, sturdy finish. It's further evidence that the 2015 vintage added its prestige to wines at every level.
Wine Critic Allen Meadows (Burghound) awarded this wine 90 points, citing "exceptionally rich flavors," "liqueur-like aromas of plum and earth," and a "delicious, sappy, and palate-coating finish." We agree, finding notes of currants and minerals, with a particularly complex and silky mouthfeel that is both lively and long.
There are certainly more age-worthy red Burgundies from the 2015 vintage. But right now, you can enjoy an expertly made red Burgundy from an exceptionally fine vintage — and one that doesn't require a cellar.
________________________

BELLAND Santenay 1er cru red 2015
Ansonia Retail: $42
3+ bottle price : $35/bot

_
AVAILABLE IN    3-    6-   AND  12-   BOTTLE LOTS
Email Tom to place an order.
or call Tom: (617) 249-3657
_
_
_____________________________
Sign up to receive these posts in your inbox:

_.
_____________________________
Terms of sale. Ansonia Wines MA sells wine to individual consumers who are 21 or more years of age, for personal consumption and not for resale.  All sales are completed and title passes to purchasers in Massachusetts.  Ansonia Wines MA arranges for shipping on behalf of its customers upon request and where applicable laws permit.