Most people consider the white wines of Burgundy to be among the world's finest wines of any color. Nowhere else does Chardonnay achieve the same balance between fruit, minerality, acidity, richness, and elegance. With production limited and ever increasing demand, the prices of white Burgundy have risen almost as quickly as those of red.
We do our best to find white Burgundies suited for every day. Particularly in the warm summer months, when you need to open a reliably nice bottle, it's hard to beat white Burgundy for freshness, consistency, and popularity. We've collected four of our favorites and discounted so they come in under $25.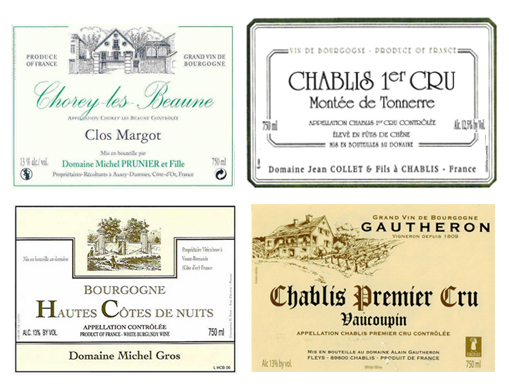 Gautheron Chablis 1er Vaucoupin 2015
This is our favorite premier cru from Gautheron. Raised in stainless steel, the wine's richness comes entirely from the vines. Look for exceptional length, clean lemon and honey in the nose, and a vibrant, electric minerality.
Gros Hautes-Côtes de Nuits blanc 2012
Michel Gros's only white wine is from the hills to the west of his domaine in Vosne-Romanée. This dense and energetic chardonnay combines the richness of barrel age with brisk freshness. Look for notes of white flowers and green apple.
Prunier Chorey-les-Beaune "Clos Margot" 2014
Father and daughter Michel and Estelle Prunier make whites of excellent value from some of Burgundy's lesser known appellations. This Chorey-les-Beaune is from 2014, a year with near-perfect balance between mouthfilling ripeness and crisp acidity.
.
Collet Chablis 1er cru "Montée de Tonnerre" 2015
Grown in Chablis most famous premier cru vineyard, this 2015 Montée de Tonnerre shows the elegance and delicacy possible in top notch Chablis. Careful oaking rounds out the wine, which is bolstered by classic minerality, lemon zest, and salt air.
________________________
WHITE BURGUNDIES UNDER $25
3x   Gautheron Chablis 1er cru "Vaucoupin" 2015:   $30
3x   Gros Hautes-Côtes de Nuits blanc 2012:   $34
3x   Prunier Chorey-les-Beaune "Margot" 2014:   $32
3x   Collet Chablis 1er cru "Tonnerre" 2015:   $38
Ansonia Retail: $408
offer price: $295/case

free East Coast shipping    |    save $113