Of the 12,000 acres of vineyards planted in Chablis, only 250 (2%) qualify as Grand Cru. This highest tier includes seven distinct vineyards, each famous in its own right. But among the seven, the Grand Cru "Les Clos" is generally considered the finest. As Master of Wine Clive Coates puts it, Les Clos is "Chablis at its very, very finest… combining depth, intensity, and great elegance."
As you can imagine, there's not much of Les Clos to go around. So we were surprised and delighted two years ago when one of our Chablis sources, the Domaine Jean Collet, told us that a tiny plot of 65-year-old vines (less than half and acre — enough for about 1,000 bottles) has found its way into the family lineup. Our delight at the new addition was surpassed only by the contents of the glass.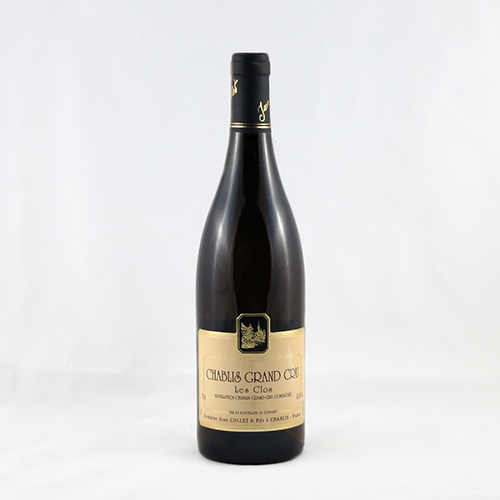 One whiff of the Collet's Les Clos, and you'll understand the hype — it's among the finest wines we've tasted from Collet's already impressive lineup. The nose shows exquisite lemon, pear, and mineral aromas, and follows with an extraordinarily long, rich, tension-filled palate. It's hard to imagine more concentration or density in white wine, particularly one with a nearly imperceptible use of oak.
Romain Collet has expertly balanced Chablis's signature minerality with a richness and intensity that calls to mind Corton-Charlemagne or Montrachet. Allen Meadows (Burghound) awarded 92 points, finding "white orchard fruit," and a mouthfeel "textured, dense and powerful."
Les Clos is famously long lived wine, with aging potential stretching out a decade or more; and the longer you can keep your hands off of it, the better it will be. We opened a bottle recently, we'd suggest decanting it (yes, decanting), for a half-hour or so before serving, at least for the next 6-8 months. Give it a year, and you'll wish you had bought more; but even in its youth, Les Clos is unmistakably in a class of its own.
____________________________
Collet Chablis Grand Cru "Les Clos" 2015
Ansonia Retail: $80
2+ bottle price : $69/bot


FREE EAST COAST SHIPPING ON ANY 12 BOTTLES