The best known domaines in our portfolio are two sources of classic Red Burgundy: the Domaine Michel Gros and the Domaine Pierre Amiot. Their wineries are just three miles apart, and they both farm plots along the world's most famous stretch of vines. Winemakers Michel Gros and Jean-Louis Amiot were even grade school friends.
Their styles are slightly different — Gros's wines tend more towards elegance, Amiot's towards richness — but they represent some of the finest red Burgundies in our portfolio. We have collected four of our favorites, from four different towns and vintages. These are pure, masterfully made Pinot Noir from some of the most talented winemakers in Burgundy.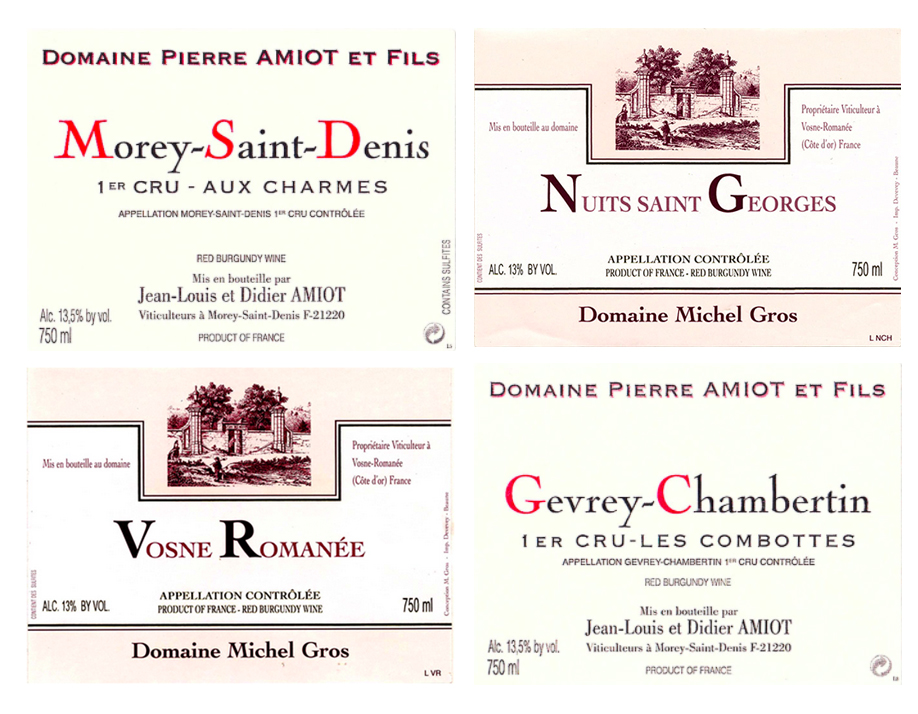 GROS Nuits-St-Georges 2012
The nose is expressive and silky, showing roasted cherries, earth, and toast. There's still some round tannin in this wine, which should carry it easily for several more years. But the bottles we opened earlier this week were elegant and delicious immediately.
AMIOT Morey-St-Denis 1er cru "Charmes" 2014
The Charmes nose is bright and delicate, with fine mineral notes joining roses. It's lively and expressive, more pretty and nuanced than rich and mouthfilling. Serve now with food or a decanter; in 5 years it'll be even more charming.
GROS Vosne-Romanée 2014
Michel's Vosne-Romanée is impossibly elegant. Showing classic violets and spice, the nose is enticing and seductive, with a long, perfectly crafted mouthfeel. As it opens up in the glass, notes of mushrooms, licorice, and cassis join the spice.
AMIOT Gevrey-Chambertin 1er "Combottes" 2014
From a premier cru vineyard surrounded by five grand crus, Combottes shows unusual depth and intensity. The nose is beautifully dark and floral nose, with notes of spice and mushrooms. The mouth is intense and rich, showing cassis, dark cherries and earth.
____________________________
Mixed Case: Gros/Amiot Sampler
Ansonia Retail: $954
sampler price : $795/case


FREE EAST COAST SHIPPING