There's no better wine for wintery weather than one made in a sunny spot. The rich wines of the Southern Rhône valley spend the summer soaking in the clear Provençal sun — they're a perfect match for cold weather. Châteauneuf-du-Pape gets most of the attention in the Rhône, but if you know where to look, there are delicious and affordable wines across the valley.
The rich reds of the Domaine Malmont are a perfect example. Winemaker Nicolas Haeni grew up in the area, and now farms a new vineyard in hills east of Séguret. Malmont is tiny — Nicolas works the vines himself with only one part time employee, and his winery is a small garage attached to his house — but the quality is exceptional.
We've just restocked on Malmont's 2015 Séguret, a wine that gets better every time we open it.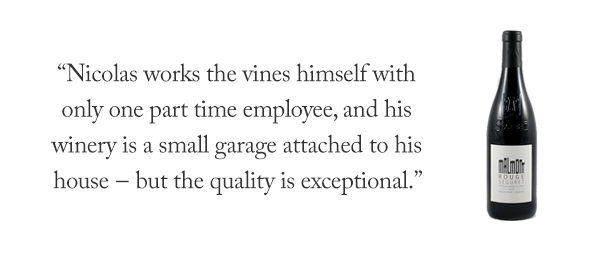 The Malmont vineyard is an extraordinary polycultural environment. Wild herbs and grasses surround Nicolas's organically-farmed vines, and the gently sloping terraced rows buzz with life. From this verdant plot with a commanding view of the valley, Nicolas crafts an exceptional series of wines.
A tasting panel at Decanter Magazine recently named Nicolas's 2015 Séguret among the top nine Southern Rhône reds tasted. They found a "beefy" wine with a "nicely muscular quality" and "deep-seated cherry fruit." As the temperatures drop and friends and family gather, we think it's the perfect bottle for a cozy winter's evening.
The wine is unusually expressive grenache/syrah blend. The nose is dark and spiced, with notes of cassis and violets. The mouth is very rich and long, but balanced by a pleasant freshness and sturdy tannins — look for notes of lavender, cherry, black pepper, and raspberry jam.
Pair this stews and other rich foods of the Holiday season. Châteauneuf-du-Pape can be extraordinary, but this wine is proof you don't need to pay top dollar to get something rich and special from the Rhône.
____________________________
Malmont Séguret 2015
Ansonia Retail: $35
6+ bottle price : $29/bot


FREE EAST COAST SHIPPING ON ANY 12 BOTTLES