French wines have long been the focus of Ansonia's portfolio. Of the 45 or so winemakers we work with, about half are from Burgundy, and all but a few are French. This isn't to say that these are the only places to find excellent wine, only that we've chosen depth over width in our portfolio.
Our longtime exception to this rule is the Fattoria Poggerino. Were we to drop them in the name of coherence, there would be a revolt among our readers. Poggerino is as beloved to longtime Ansonia customers as any of our French winemakers. Withl remarkably reasonable prices and consistent high quality they have earned their place as the outlier in the lineup.
As usual, the entire Poggerino lineup will appear in next Sunday's January Futures release. But we're singling one of our favorites out today to review in a bit more detail.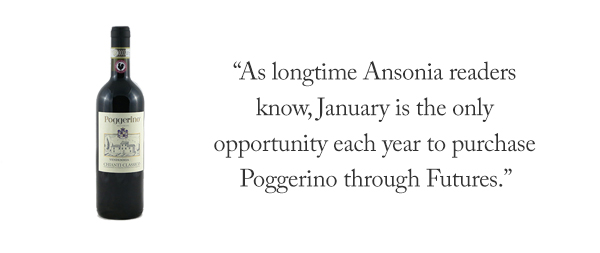 The Fattoria Poggerino sits in Radda-in-Chianti, a charming Tuscan hilltown about halfway between Siena and Florence. Poggerino's reds are pure Sangiovese, and their regular cuvée Chianti Classico strikes a beautiful balance between a deep enticing nose and a sturdy, classic mouthfeel.
The 2014 is beautiful, with strawberry jam and anise on the nose, and cherries and roses in the mouth. The texture is firm and long, with excellent aging potential; but the wine opens nicely in a glass or carafe. Jancis Robinson found it "beguiling, pure, and lithe," also noting its "long and fragrant" mouthfeel.
We think this is among the finer vintages of Chianti Classico Poggerino has made — as the vines age, the wines gain depth and polish with every vintage. As longtime Ansonia readers know, January is the only opportunity each year to purchase Poggerino through Futures. If you've got Poggerino in your cellar already, this vintage is an excellent one. And if you're new to the wine, Futures offers a discounted way to try it out.
____________________________
Poggerino Chianti Classico 2014
Ansonia Retail: $360
Futures price : $235/case
Email Tom to reserve this wine.
This wine is part of the upcoming January Futures issue, which will be released Sunday 1/14. We expect the wines to arrive in March.