We work with many winemakers with low profiles, but Jean-Marc Monnet might be the least visible. He has no roadside, no website, and no other American importer. We've gotten lost trying to find his domaine two years in a row. Jean-Marc himself is as humble as his winery is hidden, but the wines themselves are a wholly different story.
Beaujolais has long been known for its unserious wines — over-marketed and under-cared-for. But Monnet's Beaujolais has the complexity of a very good Côte d'Or Bourgogne and the density of a Northern Rhône syrah. 2016 was a low yield year for the Beaujolais — hail and frosts damaged much of the crop. But what the vintage lacks in quantity it more than makes up for in quality.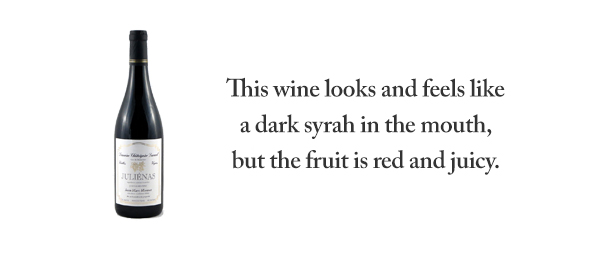 Monnet's reds are intense and perfectly extracted — the fruit is almost teeth-stainingly dense, but with no hint of bitterness. They look and feel like syrah in the mouth, but the fruit is red and juicy.
Monnet's Juliénas Vieilles Vignes is like his other wines, but more so. From 50+ year old vines and a ripe vintage, the density is exceptional. The color is inky purple, with a dark nose showing raspberry and pure wild cherry. The mouthfeel is intense and smooth with a long, dense finish of cranberry, minerals and violets. This is delicious, and as Jancis Robinson puts it, "meant to be drunk, not contemplated."
____________________________
Monnet Juliénas Vieilles Vignes 2016
Ansonia Retail: $24
6+ bottle price : $19/bot


FREE EAST COAST SHIPPING ON ANY 12 BOTTLES