The 2015 vintage in Burgundy has been a delight. We greatly enjoyed our sun-drenched visit in the summer of 2015, exciting barrel tastings in 2016, and last year's arrival of the wine in the states. The wines are popular, delicious, and built to last. We've stocked up on as many as our shelves can handle, and hope to have them around to offer for some time to come.
March Futures, which will be released next week, has the final advance order opportunity of the 2015 Red Burgundies: the Domaine des Varoilles in Gevrey-Chambertin. Our newest red Burgundy source has already found many friends among our readers. The Domaine's intense, concentrated style marries perfectly with their classic Gevrey terroir.
All four of Varoilles cuvées will be in next week's March Futures — a village, two premier crus, and a grand cru — but we're highlighting their village monopole today. The 2015 vintage produced excellent wines at every level — you don't have to buy Grand Cru to experience its greatness. Varoilles's village level Gevrey-Chambertin "Clos du Meix des Ouches" 2015 is a perfect example.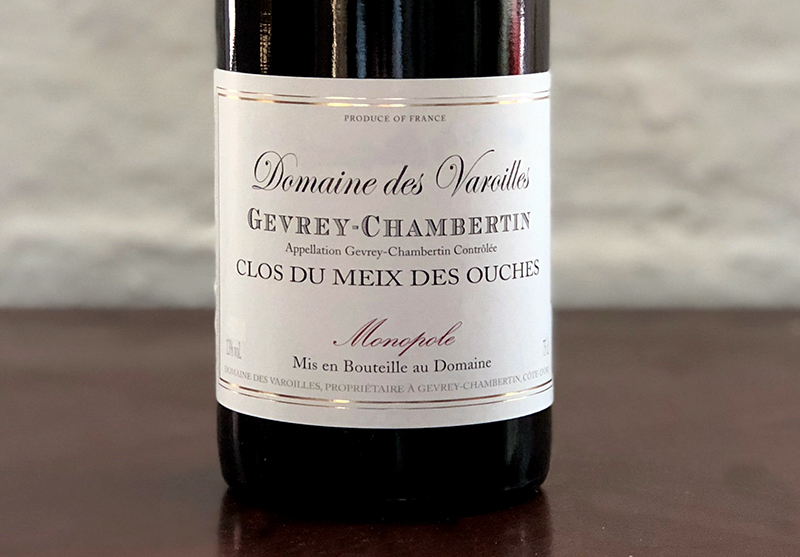 The "Clos du Meix des Ouches" is a small monopole at the edge of the town. It's surrounded by an old wall, which helps block the wind and trap warmth, making its wines particularly round. Today the 2015 is a delightful glass of young red Burgundy. The nose is floral and nicely balanced, with a mixture of violets, pan drippings, ginger, soy, and cherries. The mouth shows perfectly ripened tannins and a long, vibrant finish — we expect it to improve for another decade or two.
Jancis Robinson found it "rather gorgeous," finding it has "already lots of pleasure but with the tannins to keep it in shape." Burghound found it "solidly concentrated" and "sleekly textured," predicting "this attractive effort should drink relatively well early."
We expect the 2015s to be around for decades to come, and we hope we've reserved enough to keep them in stock for quite a while. But March Futures represents your final chance to purchase them at advance order pricing. If you have the space and time to hold them, they are likely to be an excellent investment.
____________________________
Varoilles Gevrey-Chambertin "Meix des Ouches" 2015
Ansonia Retail: $936
March Futures : $695/case  ($57.92/bot)
.
Email Tom to reserve this wine.

FREE EAST COAST SHIPPING ON ANY 12 BOTTLES