Beaujolais has always had a turbulent relationship with the rest of Burguntdy. To many in the Côte d'Or, the Beaujolais represents overmarketed and undercrafted wine. But in recent years the Beaujolais has undergone a renaissance, as the prominence of Nouveau recedes and more vignerons make ageworthy wine.
Among our favorite serious Beaujolais sources is Laurent Perrachon, a multigenerational domaine working very old vines with meticulous care. Perrachon has more fans than just us — the domaine regularly receives top notes from Jancis Robinson, Josh Raynolds (Vinous), and Allen Meadows (Burghound).
Jancis Robinson calls Moulin-a-Vent the "most highly rated of all the Beaujolais crus," and after a sip of today's wine it's not hard to see why. Perrachon's Moulin-a-Vent "Les Burdelines" is as dense and bold as any Beaujolais we've tasted. As with Perrachon's other wines, this bears more resemblance in mouthfeel to a Northern Rhône Syrah than a Pinot from Burgundy.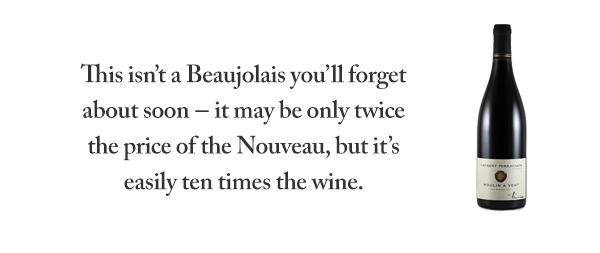 A generation ago the words "refined" and "Beaujolais" were rarely found in the same sentence. But it's a good word to describe Perrachon's 2014 Burdelines — Burghound awarded 90 points, finding "detail, verve, and refinement," and calling it "delicious and refreshing."
Perrachon keeps this wine in oak for a bit longer to help it knit together, and the extra few months of rest does the wine wonders. There's a smoothness and elegance that's unusual for Gamay, and even more so for any $25 bottle of red. The oak adds a faint note of toast, but more serves to soften the edges and round the palate.
With an hour in a carafe, this wine will happily accompany a hearty meal and a rowdy group of friends. Look for anise, cherry, black pepper, and stones on the nose, with a dense, chewy mouthfeel and notes of briary cassis and black raspberry. This isn't a Beaujolais you'll forget about soon — it may be only twice the price of the Nouveau, but it's easily ten times the wine.
____________________________
Perrachon Moulin-a-Vent "Burdelines" 2014
Ansonia Retail: $30
6+ bottle price : $25/bot


FREE EAST COAST SHIPPING ON ANY 12 BOTTLES