The carignan varietal isn't known for making sophisticated wines. Second only to Merlot plantings in France, Carignan covers enormous swaths of the southern third of the country. It's known as an undistinguished, high yield grape, which can produce four times the volume of Pinot Noir on the same acre.
But age changes that calculus entirely. Very old Carignan can produce very interesting wine, and Foulaquier's vines are now over 60 years old. Until 2015, Foulaquier combined the fruit from their old-vine carignan with old-vine Grenache, producing the ever popular Gran'Tonillières. To us, it has always been their finest cuvée; it quickly became a favorite among our readers too, prized for its elegance, smooth texture, and exquisite complexity.
In 2015 Foulaquier judged the fruit from this special Carignan vineyard worthy of its own cuvée. We were a bit startled when they announced the change to their best wine, but we needn't have worried. The new Gran'T more than speaks for itself.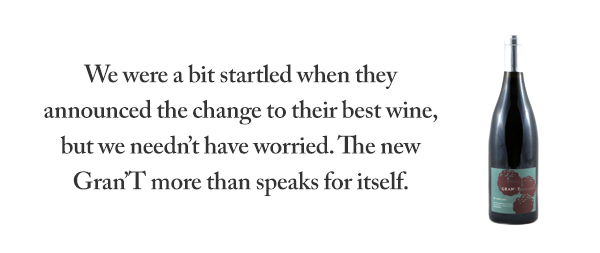 The Mas Foulaquier is an excellent source for organic and biodynamic reds in the the northern Languedoc. Their cuvées combine the wild, rugged earthiness of the region with an expressive, unfiltered style. The wines are unique and memorable, full of unbridled energy and the complexity of the natural world.
The new Gran'Tonillieres is simply delicious. It shows the classic Foulaquier nose, with perhaps less funkiness than the other cuvées. The signature raspberries on the label remain an accurate tasting note, joined by garrigue, lavender, rosemary, soy sauce and wild cherry jam. The mouth is more sophisticated and refined than the former cuvée — the pure Carignan shows a dense, inky texture with silky tannins and a long but beautifully balanced finish. At 13% alcohol, it's dark and woodsy but not at all heavy.
We're always apprehensive when winemakers mess with success — but this cuvée is further proof of Foulaquier's skill. If you're a long time fan, this is as good as Foulaquier has ever been — if you're new to the producer, you're in for a treat.
____________________________
Foulaquier Gran'Tonillières 2015
Ansonia Retail: $50
3+ bottle price : $42/bot


FREE EAST COAST SHIPPING ON ANY 12 BOTTLES