We visited Denis Basset yesterday at his Domaine Saint Clair outside Tain l'Hermitage. He's a friendly, energetic winemaker making truly excellent wines. (They're a lot of flavor for 9:30 in the morning, but they wash the toothpaste right off your palate.)
We tasted Basset's excellent 2016s from bottle and 2017s from barrel — both show clean pure fruit and loads of depth and energy. But the famous 2015s continue to get better and better. We expect them to have very long lives (decades if you have the space and patience), but they're awfully hard to argue with today.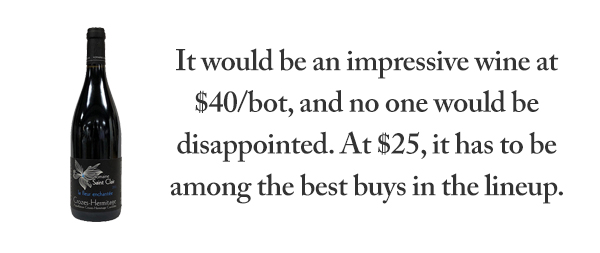 The brilliance of Basset's wines comes from the marriage of a dark, rich southern grape varietal with a cooler northern climate. Particularly in 2015, the wines show an exquisite balance between an inky meatiness and a brisk fruitiness. Even in a crowded field, Denis Basset's old-vine Crozes-Hermitage "Fleur Enchanté" is a favorite.
The wine shows dark blackberry and cassis fruit in the nose, with violet and cloves alongside. The mouth is remarkably dense and fine, with a balanced mouthfeel and an extremely long finish that shows peppercorn, plum, and wild cherry jam. From nearly 50 year old syrah vines and aged carefully for a year and a half before bottling, this is an extraordinarily mouthfilling Syrah.
It would be an impressive wine at $40/bot, and no one would be disappointed. At $25, it has to be among the best buys in the lineup.
____________________________
Saint Clair Crozes-Hermitage "Fleur" 2015
Ansonia Retail: $30
3+ bottle price : $25/bot


FREE EAST COAST SHIPPING ON ANY 12 BOTTLES