The 2015 reds continue to be the favorite child here in Burgundy. The wine lists of the local bistros and restaurants are bursting with juicy, delicious 2015s, and there's little left at the domaines.
The winemakers will tell you they are prouder of their 2016s or 2017s — years that require judgment separate the skilled vignerons from the ones who depend on luck. But they all readily admit that 2015 a charmer of a vintage. "If you didn't make great wine in 2015," they say, "find another job."
Having tasted Gautier Desvignes's 2016s and 2017s, we can confirm that he's a gifted winemaker in any year. But as it is everywhere, his 2015s are simply delightful. After releasing his three other 2015's, we're pleased to arrive at his fourth and final cuvée: the Givry 1er cru Clos du Vernoy.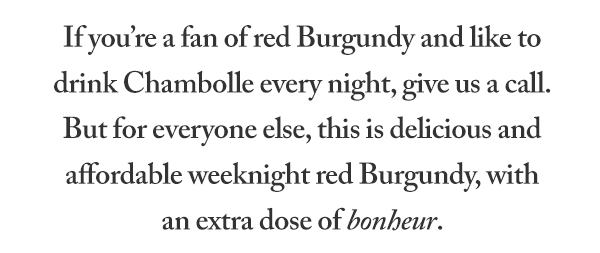 The Clos du Vernoy is the Desvignes monopole — a classic, juicy, surprisingly polished expression of the family's terroir. The red Burgundies of the Côte Chalonnaise are less serious and less expensive than those from more famous zip codes, but they're no less Burgundian. They capture the region's friendly, welcoming spirit, trading elegance for rusticity, and polish for vigor.
The 2015 Givry 1er "Clos du Vernoy" is a delight. It combines the rugged energy of the Côte Chalonnaise with a smooth ripeness and unusually refined character. After a half-hour in a decanter this wine is hard to put down. The nose shows dark plum jam and beautiful complexity — look for pan drippings, mushrooms, and earth. The mouth is lively and smooth, with great density, and a long, clean, cherry compote finish.
If you're a fan of red Burgundy and like to drink Chambolle every night, give us a call — we can help. But for everyone else, this is delicious and affordable weeknight red Burgundy, with an extra dose of bonheur.
____________________________
Desvignes Givry 1er "Clos du Vernoy" 2015
Ansonia Retail: $38
3+ bottle price : $32/bot


FREE EAST COAST SHIPPING ON ANY 12 BOTTLES