The neighboring towns of Nuits-St-Georges and Vosne-Romanée produce strikingly different wines. In general, Vosne is elegant and ethereal; Nuits is bold and muscly. Taste them side by side and it's hard to believe they share a border.
Michel Gros is a sixth generation resident of Vosne (his mother was the mayor), but he makes several cuvées from Nuits as well. Today we're suggesting two ideas from Gros, one from each town — both premier crus, both from the legendary 2015 vintage, both 93 points and "outstanding" ratings from Burghound.
The good news is you don't have to pick just one.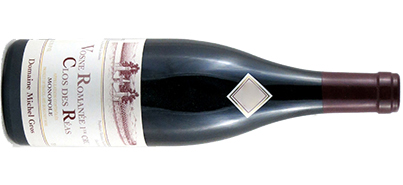 The Vosne-Romanée 1er cru "Clos des Réas" is a terrific wine in any year — in 2015 it's magnificent. Look for notes of dry raspberries, spice, and violets. Burghound awarded 93 points, finding it "vibrant," "sleek," and "outstanding."
Gros's Nuits-St-Gerges 1er cru comes from two plots tiny plots of very old vines, which produce only three barrels in a good year. In the 2015 look for dark, juicy notes of cassis, briary woodsiness and a muscular mouthfeel. Burghound gave 93 points, finding "excellent volume," and calling it "bold and very Nuits," and "outstanding."
____________________________
Gros Vosne-Romanée 1er cru "Clos des Réas" 2015
bottle price: $159

____________________________
Gros Nuits-St-Georges 1er cru 2015
bottle price: $115

____________________________
Mixed Half-Case (3 of each wine)
bottle price:  $822  $750 + free shipping