If Vosne-Romanée embodies Burgundian sophistication, then neighbor Nuits-St-Georges has the humbler charm of a country gentleman. Spread across five miles of varied terroir, the wines of Nuits-St-Georges range from spiced and elegant to meaty and rich. Wines from plots near the Vosne border can borrow a bit of spice and silk from their neighbor.
Today's wine is from Michel Gros, a master winemaker from Vosne-Romanée. Gros makes two Nuits-St-Georges cuvées — a richer one from the south of town, and a more refined one from near the Vosne border. Today's cuvée is from the Vosne side, and combines some of the elements of both towns in a single wine.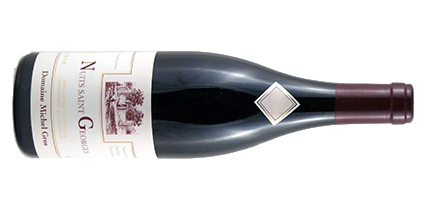 The 2013 vintage in Burgundy was a difficult one — wet and cool, with a late harvest and tricky growing conditions. It's not what they call a "grand millesime," but now after a half-decade in bottle the 2013s have begun to come into their own. Their acidity has integrated beautifully into the core material, and today they are complex, delightful red Burgundies.
Gros's Nuits-St-Georges 2013 is has Gros's signature style, with an enticing, silky bouquet of redcurrants and licorice. In the mouth it's meaty and dense, showing cassis, toast, plum, and just a hint of spice. Burghound awarded 91 points, calling it "outstanding," "sauvage" and "very Nuits," and finding "excellent richness and volume."
Today, after just 20 minutes in a carafe or decanter, this wine will transport you to the Burgundy of centuries ago — think woven tapestries, roasted meats, and ancient stone chateaux. Speaking of roasted meats, this bottle matches perfectly with a steak.
____________________________
Gros Nuits-St-Georges 2013
bottle price: $65



FREE EAST COAST SHIPPING ON ANY 12 BOTTLES