Transition to organics/biodynamics may be trendy in winemaking today, but it's nothing new at the Domaine Pierre André in Châteauneuf-du-Pape. Jacqueline André's grandfather stopped using chemicals in his vines in 1963, and the domaine has been certified organic since 1980 – the first in the appellation.
As it turns out, he was on to something — those vines are now 140 years old, and continue to produce every year. Today Jacqueline André and her son craft the fruit of these ancient "grand dammes" (as they call them) into a single magnificent wine. No luxury batch or cuvée speciale here — just one red, outstanding year in and year out.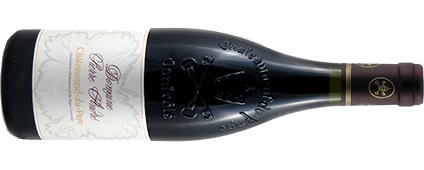 As the appellation's original organic and biodynamic source, André's wines are a standard for elegance and clarity. And indeed the wine is as extraordinary as the story of the Domaine. The 2017 Châteauneuf-du-Pape red offers a beautifully expressive nose of plum/raspberry fruit, smoke, and pan drippings. It fills the mouth but is neither hot nor heavy; there's plenty of support but the structure is beautifully knit together.
This wine will be delicious in its early years when the fruit dominates, and it will be equally delicious as it evolves over the years to show notes of leather, licorice, and forest floor. How does André achieve such exquisite balance in such a mouthfilling, voluminous wine? "It's all because of the vines," she tells us with a smile.
____________________________
André Châteauneuf-du-Pape 2017
bottle price: $58

FREE EAST COAST SHIPPING ON ANY 12 BOTTLES