We work with many winemakers with low profiles, but Jean-Marc Monnet might be the least visible. He has no roadside, no website, no employees, and no other American importer. Jean-Marc himself is as humble as his winery is hidden, but the wines themselves are a wholly different story.
Beaujolais has long been known for its unserious wines — over-marketed and under-cared-for. But Monnet's wines have the complexity of real red Burgundy, and the density of a Northern Rhône syrah. The 2019 vintage produced bold, mouthfilling, user-friendly Gamays that require no patience or pretension: just a corkscrew, a couple glasses, and a friend or two.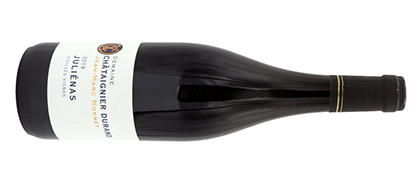 All of Monnet's 2019 cuvées are rich, intense, and perfectly extracted — his Chiroubles and regular Juliénas are punchy and delightful. But today's wine, his old-vine Juliénas, is another level of impressive. Drawn from 50 year old vines, the fruit is inky and dense but with no hint of bitterness. The mouthfeel and color will make you think Syrah, but the bursting red fruit is classic Gamay.
There's a startling amount of flavor stuffed into this sub-$20 bottle. The color is inky purple, with a dark nose showing raspberry and pure wild cherry. The mouthfeel is intense and smooth with a long, dense finish of cranberry, minerals and violets.
It's still jubilant Beaujolais, in the best sense of the word — as Jancis Robinson puts it, "meant to be drunk, not contemplated." But this is hardly background music.
____________________________
Monnet Juliénas Vieilles Vignes 2019
bottle price: $19

FREE EAST COAST SHIPPING ON ANY 12 BOTTLES