Like most grapes, Syrah changes character based on where it's grown. In warmer climates like South Africa and Australia (where it's known as Shiraz), it's big, rich, jammy and full of ripe plummy fruit. In France's Northern Rhône, the wine takes on a much subtler expression.
Though it's not as cool as it used to be, the Northern Rhône Valley is still the coolest climate to produce Syrah. Here the grape embodies a beautiful paradox: dark flavors and intense blue-black color, but soaring aromatics and a lively texture. It's this marriage of high and low that makes the Northern Rhône such a special place for Syrah.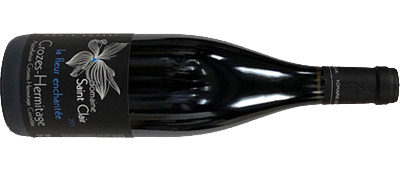 Located near the Northern Rhône's southern limit, Crozes-Hermitage is rarely as complex or ageworthy as Côte Rôtie or Hermitage – but from the right source it can offer tremendous value. Denis Basset is a talented and passionate young winemaker in Crozes-Hermitage, and his wines get better each year as he refines his technique in the cellar. His wines show exceptional refinement and complexity, a result of his organic viticulture and precise winemaking.
Our favorite cuvée from him is the "Fleur Enchantée," a beautiful Syrah made from 50+ year old vines. The nose shows inky black fruits, alongside toast, cloves, violets, and earth. The mouth is smooth and dense, with a muscled structure and notes of plum, iodine, and blackberries.
If you've got lamb on the menu for this Easter or Passover, this is a perfect pairing. Give it a half-hour in a decanter before serving.
____________________________
St-Clair Crozes-Hermitage "Fleur Enchantée" 2018
bottle price: $28

FREE EAST COAST SHIPPING ON ANY 12 BOTTLES